http://mybargainbuddy.com/store/omahasteaks?afsrc=1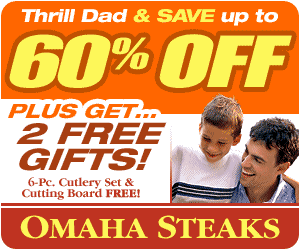 The Heartland Collection (#7962TYW)
The Heartland Collection boasts a delicious combination of steaks, burgers and potatoes. We start off with our lean and tasty Omaha Steaks Top Sirloins to tempt your taste buds. Along with our world-famous steaks we've also included our extra-juicy Omaha Steaks Burgers. And to go along with these grilling sensations weíve included our creamy Stuffed Baked Potatoes. Itís a great combo for the family. Mom and Dad can enjoy the Top Sirloins and the burgers are a real hit with the kids. Order some up today!
This product includes the following:
4 (7 oz.) Top Sirloins
6 (4 oz.) Omaha Steaks Burgers
6 (5.75 oz.) Stuffed Baked Potatoes
Regular $92.00,
Save $52.01. Today Only $39.99
The Backyard Bash (#7712TYW)
Your backyard barbecue is sure to be a hit with the Backyard Bash combo. This combo has a variety of grilling greats including Omaha Steaks world-famous Filet Mignons and savory Top Sirloins, thick and meaty Pork Chops, plump and juicy Gourmet Franks and beefy Gourmet Burgers. Plus you'll also get our popular Potatoes au Gratin.
This product includes the following:
4 (4 oz.) Filet Mignons
4 (5 oz.) Top Sirloins
4 (4 oz.) Boneless Pork Chops
4 (3 oz.) Gourmet Franks
4 (4 oz.) Omaha Steaks Burgers
10 portions Potatoes au Gratin
Regular $171.00,
Save $102.00. Today Only $69.00