USA TODAY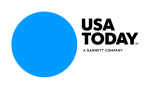 7950 Jones Branch Drive, 8th floorMclean, VA 22108
Toll Free:
(800) 872-0001
Business Description:
USA TODAY provides you with a daily snapshot of the top News, Money, Sports and Life news across the country and around the world - with fair and credible coverage, powerful graphics, and a quick, concise format. The Nation's #1 Newspaper keeps you current with news and issues affecting your life.
Discount Available NationwideDiscount:
Special offer for SeniorDiscounts Members. Subscribe to USA TODAY and save up to 16% off the regular subscription price. Click on the link provided or call the toll free number and request the special offer code 686.
Age Requirement:
50+
E-mail:
jlanderson@usatoday.com
Website:
www.usatodaysubscribe.com/srdiscount
NOTE: You have to be a member of Senior Discounts to qualify for this
offer. If you'd like to register, go here:
https://www.seniordiscounts.com/joinnow.aspx