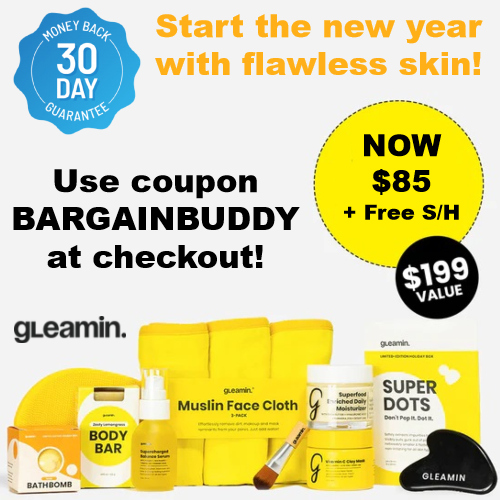 Start the new year with flawless skin! The Gleamin New Year Spa Box is filled with premium skincare products and accessories to help you achieve blemish-free, glowing skin.

The New Year Spa Box includes:
Vitamin C Clay Mask – A 10-minute must-have for improving uneven texture, brightening the skin, and fading stubborn dark spots or blemishes – naturally.
Supercharged Balance Serum – Brighten, nourish, hydrate, and balance the skin pH to help achieve and maintain an even complexion.
Superfood Enriched Daily Moisturizer – Instantly hydrates, gradually brightens, and restores the look of youthfulness
Super Dots Pimple Patches (36-Pack) – Banish blemishes with hydrocolloid stickers that erase pimples overnight without popping.
Muslin Face Cloth (3-Pack) – Apply cleanser to wipe away dirt and makeup residue with these super-soft, reusable washcloths.
Facial Cleansing Pad – Use the silicon facial pad in combination with your favorite cleanser to help exfoliate away dead skin cells and unclog pores.
Black Obsidian Facial Gua Sha – Stimulate circulation to reduce wrinkles, increase skin tightness, and decrease puffiness.
Mango Bath Bomb – Loaded with natural extracts and ingredients to rejuvenate and detoxify, this bath bomb that will help rebalance and hydrate your skin.
Hydrating Body Bar – Body Cleanser Bar
This natural, hydrating body cleansing bar is great for daily use. It will cleanse without stripping away natural oils from the skin.
2