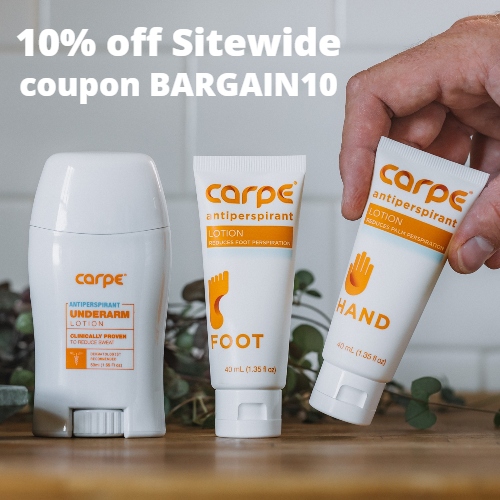 Carpe sells sweat control products for all areas of your body. We all know how uncomfortable and embarrassing sweat stains, sweaty palms, and other sweat issues can be. If excessive sweating brings you down, Carpe is here to lift you back up – with effective antiperspirant solutions that will bring back your confidence.
Antiperspirants physically reduce the amount of sweat that leaves the sweat gland using an aluminum salt that reacts with proteins in the sweat, forming a gentle plug in the sweat duct. But Carpe's antiperspirants don't stop there – loaded with sweat-absorbing powders and a careful blend of supporting ingredients, their antiperspirants are designed to yield a far drier feeling than other products. Carpe's antiperspirants and other sweat-absorbing products are frequently recommended by dermatologists and have been used by thousands of people with results amazing results.
They offer antiperspirant & sweat absorbing products for your underarms, hands, feet, face, and pretty much anywhere else on the body that is prone to excessive sweating.
Get 10% off Sitewide at Carpe using coupon BARGAIN10. Coupon is valid on their Bundle & Save deals, which are already up to 45% off! All orders come with a risk-free 100% money back guarantee and Free shipping on orders over $10.
2