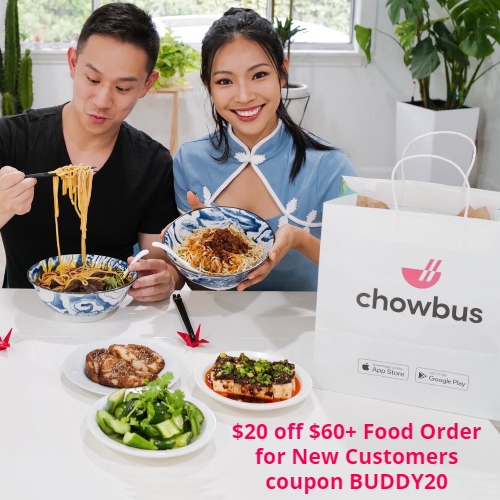 Chowbus delivers fresh & delicious authentic Asian food straight to your door! They have done all the research for you to find the best restaurants in your city that serve the highest quality, most authentic Asian cuisine. The Chowbus team has personally tried each restaurant and every meal offered through Chowbus. Meals handpicked to ensure you get to experience the best of the best.
Ordering is super easy – Simply download the app, create your account, enter your delivery address, and scroll through the restaurants and dishes to select whatever looks good to you. Chowbus has a picture to go along with each meal so you know exactly what you're getting.
Want an appetizer from one restaurant but an entrée from another? No worries! Chowbus allows you to order from different restaurants in a single order with no added fees so you can sample a wider variety of dishes in one sitting.
You can choose to have your meals delivered or place an order through the app and pick it up at the restaurant when it's ready. There are no service fees or small cart fees for pick up or delivery orders and their low delivery fees range from $0 to $4.99, depending on the distance.
If you'd like to try your hand at making your own authentic Asian meals, Chowbus also offers same day grocery delivery from the Asian grocery stores in your area.
Get $20 off your first food order of $60 or more at Chowbus using coupon BUDDY20.
Bonus: You will automatically earn reward points on every pick up & delivery order with the Chowbus Rewards Program. There's no enrollment required. Simply order from participating restaurants and earn points toward a Free dish!
Love trying new Asian foods? Consider a Chowbus Plus membership. You'll get unlimited Free delivery on orders over $15 (no order restriction for New York City), and receive 10% off all your pickup orders. You'll also get member exclusive dine-in discounts at select restaurants. Chowbus offers a 30-day Free trial and membership is $9.99/month thereafter. There are no commitments and you can cancel anytime.
Chowbus is currently available in Austin, Ann Arbor, Atlanta, Boston, Bay Area, Champaign, Chicago, The DMV (DC, Maryland, Virginia), Edison, Houston, Jersey City, Lansing, Los Angeles, Minneapolis, NYC, Philadelphia, San Francisco, Seattle, St. Louis, and West Lafayette.
2