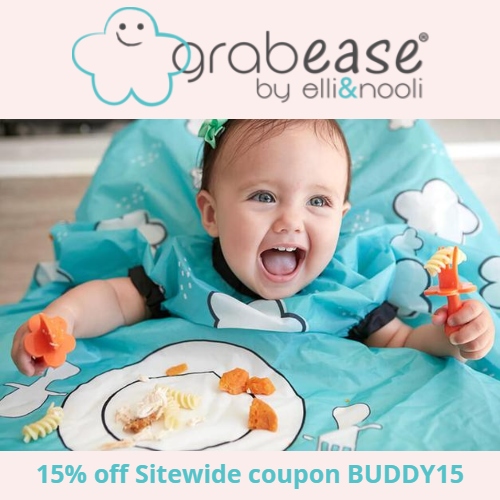 grabease by elli & nooli is an innovative baby product line designed to develop independence and promote toddler self-feeding. They are proud to be a woman-owned company that is run by moms who have firsthand experience with little ones!
grabease's patented fork and spoon sets are the first utensils designed with babies' independence in mind and they come highly recommended by occupational therapists. The ergonomic handle fits comfortably in babies' natural hand grasp, making the hand-to-mouth motion easier. Using this set will also help strengthen their fingers while encouraging proper pencil grasp development (this will come in handy later!). They feature a choke protection shield to add a layer of safety while your little one builds confidence in self-feeding, and the shallow spoon allows babies to easily clean the spoon with their lips.
Their product line also includes the Allover Bib, which covers everything from neck to toe, including the highchair to make cleanup a breeze, a silicone suction bowl that adheres to most surfaces so that it stays put, a double-sided toothbrush designed to make brushing easier for parents and children, a 2-in-1 silicone spoon + teether, and more. All products go through rigorous testing to ensure safety and they're all PVC, BPA, lead, and phthalate free.
Get 15% off Sitewide at grabease using coupon BUDDY15. Shipping is a flat rate of only $4.95 on all orders.
About Elli & Nooli –
Project Elli & Nooli is their way of giving back and part of their mission to make a larger impact to help children all over the world. Each purchase from grabease helps them donate to children in need. Elli & Nooli has helped provide over 250,000 meals to children in need through The Children's Hunger Fund! They support other great organizations as well such as Children's Hospital LA, Harvest Home, and Baby2Baby.
5