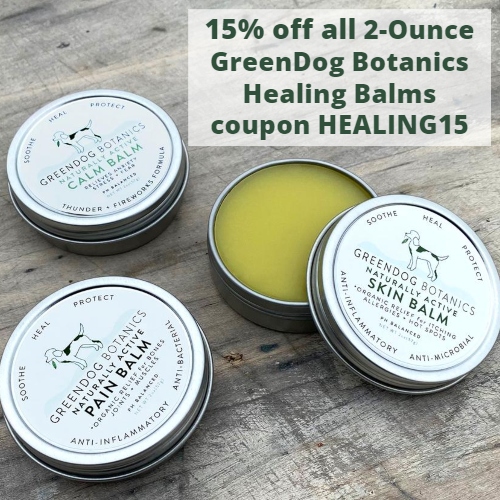 Greendog Botanics offers holistic pet products that provide natural relief to keep your dog healthy, happy, and comfortable.
Their healing balms are specially formulated with a proprietary blend of certified organic ingredients and wild-crafted herbs that are anti-inflammatory, antibacterial, antimicrobial, and pH balanced.
Natural Skin Relief Balm provides organic relief for itching, allergies, and hot spots. It is a great moisturizer for your pup and it also protects paws and noses from the elements in even the most extreme weather conditions.
Natural Calm Balm is made with calming ingredients that relieve anxiety, stress, and fear. It's great for things like car rides, grooming, vet visits, fireworks & thunder storms, and any other situation that stresses your dog out. It is also a natural moisturizer that soothes while enabling faster healing and comfort.
Natural Pain Relief Balm helps relieve bone, joint, and muscle pain and can accelerate recovery from surgery or injuries. It also moisturizes and protects your pups paws and nose.
Get 15% off all 2-Ounce Healing Balms at Greendog Botanics using coupon HEALING15. Shipping is Free on orders of $35 or more. GreenDog Botanics Healing Balms come with a 100% satisfaction guarantee.
Fun Fact: All three balms are safe for dogs, horses, and humans! You can use them yourself to experience the same healing & relief. The Natural Skin Relief Balm is great for things like rashes, bug bites & bee stings and the Natural Pain Relief Balm would be prefect for aching joints.
1