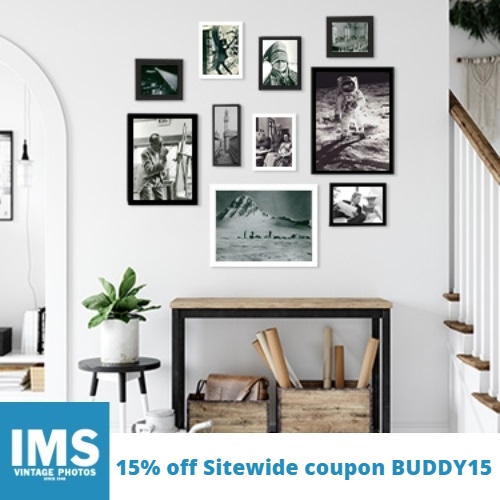 IMS Vintage Photos sells original historical photographs that are great for collectors and home and office décor, and they make beautiful, unique gifts. Their vintage photos are art with a history and they add style to any space. You can choose photographs specially selected by IMS for home and office decoration or easily search for your own favorites – just type in your keywords at the top of the page. They have tons of categories to choose from, including cars, movies & music, military, sports, nature & animals, ships, people, and more.
IMS Vintage Photos partners with newspaper archives all over the world to get access to their historic and original pictures in exchange for assisting them with the overall digitization process. IMS receives the physical pictures, scans them, keywords them, and sends back the digitized format to the newspaper archives to preserve the image forever. They then sell the original, preserved vintage press photographs to anyone interested in collecting a moment in history, purchasing an incredibly special present, or simply decorating their home or office. All the photographs are original and often come with stamps and/or notes on the flip side.
To make your vintage photo even more special and valuable you can add a certificate of authenticity, a matte board, and/or a custom frame!
Get 15% off Sitewide IMS Vintage Photos using coupon BUDDY15.
5