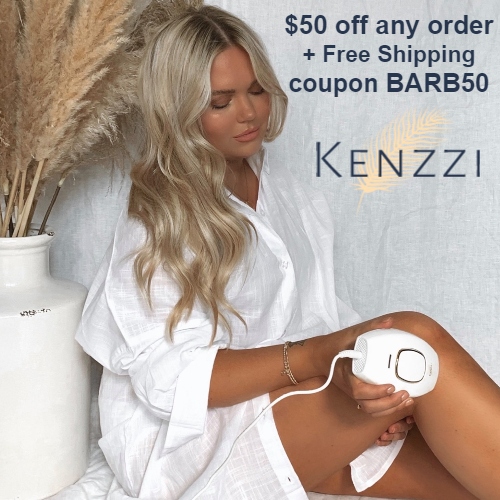 Kenzzi offers at home hair removal and microdermabrasion devices that save you time & money, and give you professional results.
The Kenzzi IPL Hair Removal Handset allows you to safely & easily remove unwanted hair in just a few minutes with little to no pain! It uses a broad spectrum of visible light wavelengths to specifically target hairs at the root, reducing and eliminating hair growth, and giving you long lasting results. Hair removal isn't the only benefit – it also promotes even skin tone, reduces the appearance of wrinkles, and shrinks & cleans pores. The device can be adjusted to match different skin and hair types and it can be used on any part of the body. The device provides over 300,000 flashes!

Save yourself a pricey trip to the dermatologist's office with Kenzzi's Microdermabrasion handset. Their at-home microdermabrasion system uses medical-grade, diamond-encrusted heads to exfoliate and suction away dead skin cells & other impurities that can clog pores, leading to inflammation, blackheads and acne breakouts. It also stimulates the skin, promoting blood circulation and accelerating skin tissue development & collagen production, leaving you with a youthful glow.

Get $50 off any order at Kenzzi using coupon BARB50. Both devices ship Free and come with a 90-day money back guarantee and a 1-year warranty.
3