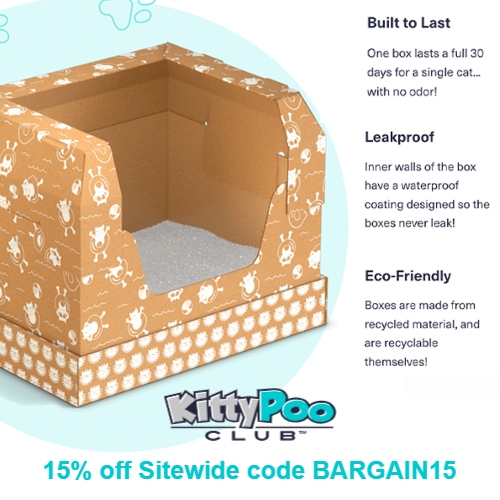 Say goodbye to the litter box as you know it. Kitty Poo Club offers an odor-free, hassle-free, and scrub-free all-in-one litter box solution. Kitty Poo Club delivers their exclusive disposable litter box straight to your door every month pre-filled with odor-destroying litter.
Each box is designed to last 30 days for one cat. After the 30 days, there's no fuss…just recycle your old box when the new one arrives. They are highly functional, convenient, leakproof, and eco-friendly.
They offer three different boxes to choose from and multiple types of litter, so you can find the perfect combo for your cat. You can also show your kitty some love by adding treats that ship along with your litter boxes. Subscriptions can be adjusted any time to change ship dates, delivery frequencies, etc.
Get 15% off Sitewide on your first shipment from Kitty Poo Club using coupon BARGAIN15. All subscriptions come with a 100% satisfaction guarantee + Free shipping! If you don't love their products, they'll refund a single box within the first two weeks of your first order.
6