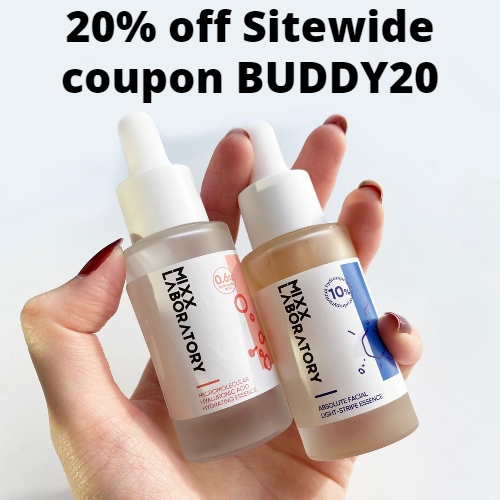 MixX Laboratory was created with individuality in mind. They want their customers to be able to create a skincare routine that's as unique and personal as their own skin. They've curated the best ingredients for your skin and used them to create a line of skincare products designed to allow you to shape your own skincare routine. From their exceptional clinical formulations to customizable products, MixX Laboratory gives you the knowledge and means to create a skincare routine that's truly your own.
Their reputable dermatologists study the intricacy of human complexion. With dermatologist recommendations, MixX Laboratory believes in simple yet effective skincare. Their products are stripped of harmful chemicals and additives, leading to the enhancement of your natural beauty. MixX Laboratory is committed to customization and variety. Every variation of skin type and complexion is recognized and individuality and product consistency embody the uniqueness and quality of their skincare.
MixX Laboratory offers a variety of premium serums & essences, some of their best sellers include:
Anti-aging Antioxidant Serum – This antioxidant-rich essence protects the skin from UV rays, pollution, and other environmental factors. Idebenone, known for its potent antioxidant behavior, defends the skin from free radicals, which break down the skin's collagen. Proven to improve appearance and revitalize your skin, this essence also contains Tremella Fuciformis (Snow Mushroom) extract which is renowned for its incredible hydration properties. Snow Mushroom extract is also loaded with Vitamin D and antioxidants. MixX Laboratory paired this powerful extract with Helianthus Annuus Seed Oil (Sunflower) Squalene, and Vitamin E to keep your skin hydrated and protected from damaging free radicals.
Hexapeptide* 3% Firming & Lifting Essence – Literally, the gold standard for skincare, this essence is compounded with 0.1% nano-gold. This 24-carat ingredient generates negative ions to neutralize free radicals. Harmful unbonded oxygen particles are one of the leading causes of premature aging, especially for city-dwellers and outdoors-lovers. Nano-gold captures free radicals before they can do their dirty work on natural skin tissues. Its tenacious strength and durability supply continuous antioxidant power throughout the day.
Bifida Ferment 3% Essence – Our skin is an ecosystem. Our skin's microbiome – our bodies' largest organ – exists in a delicate balance. When this balance is disrupted or broken, we experience blemishes, inflammation, acne, irritation, dullness, dryness, and accelerated signs of aging. Just like fermented foods are good for your gut, fermented skincare works miracles for our skin's moisture barrier. This fermented essence will visibly plump and rejuvenate your skin, improve texture, tone, and glow, and reduce fine lines and pigmentation. By countering pollution and UV damage and replacing natural oils that are diminished through soaps and cleansers, this Bifida-based formula replenishes what is lost in everyday life.
Get 20% off Sitewide at MixX Laboratory using coupon BUDDY20. Shipping is $5 or Free on orders of $35 or more. All products come with a 14-day money back guarantee. Be sure to check out their already discounted skincare sets.
All MixX Laboratory products are free of artificial fragrances, artificial pigments, parabens, essential oils, and unrefined petrolatum.
1