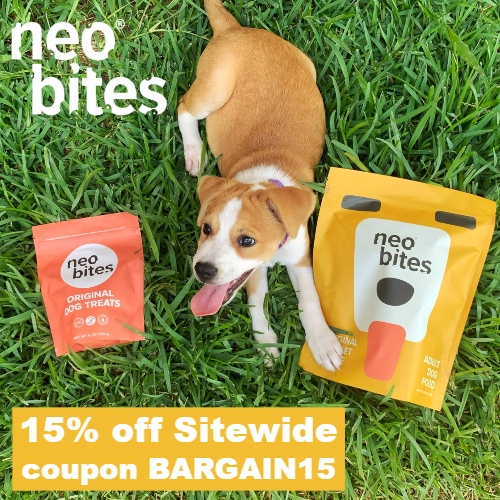 Neo Bites offers nutritious and convenient dog treats and meal mix-in that are packed with superfoods to keep your pup healthy and happy.
Their Ready-Fresh Superfood Mix-In is as nutritious as fresh food, with the convenience of kibble. Most dog food kibble is highly processed and lacks nutritional quality. Leading fresh, human-grade foods offer the right nutrition, but require refrigeration and can be messy. Both types of foods are made with unsustainable proteins and packaging. Ready-Fresh solves those problems! They use human-grade superfoods which are gently cooked and dried at a low temperature, producing high-quality, unprocessed dog food that's shelf-stable and ready-to-eat. As a bonus, they use the most sustainable, resource-efficient protein source and packaging available.
Neo Bites OG Dog Treats are made with whole-food, human grade superfoods and resource efficient proteins. They are allergy and gut friendly and can easily be broken up for smaller dogs or used as training treats.
Get 15% off Sitewide at Neo Bites using coupon BARGAIN15. All products come with a 100% satisfaction guarantee. Shipping is a flat rate of $4.99 on Ready-Fresh Superfood Mix-In and the OG Dog Treats ship Free. Coupon is not valid on subscription orders.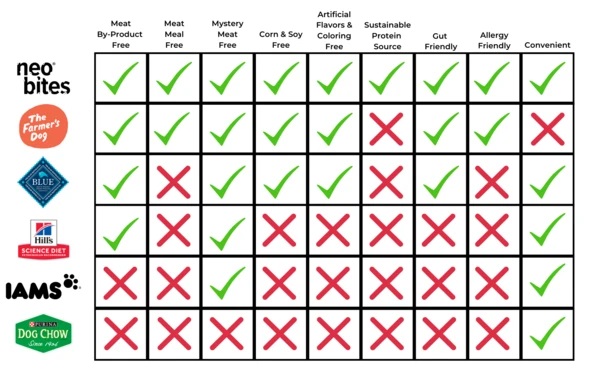 More about Neo Bites Ready-Fresh Superfood Mix-In nutrition & ingredients:
Cricket – A nutritional powerhouse: Cricket contains all 10 essential amino acids, as many omega-3s and more vitamin B12 than salmon, more iron than spinach, more calcium than a glass of milk, as well as chitin, a gut-friendly prebiotic. As a bonus, they're one of the most efficient sources of animal protein – using fractions of the resources used by traditional protein sources, while producing virtually no greenhouse gases.
Oats – This heart-friendly grain is a great source of antioxidants and fiber that can aid in digestion while promoting healthy skin.
Peas – A great source of sustainable protein, fiber, vitamin A, iron, folate, thiamin, vitamin C, manganese, and vitamin K. Peas can support your pup's skin, heart, and eye health.
Pumpkin – Rich in fiber and beta carotene, pumpkin can help aid in your pup's digestion, while helping prevent disease and infection.
Egg – A complete protein that boosts your pup's metabolism. Plenty of healthy fats, too!
Apple – Great source of vitamin A, vitamin C, and fiber that can help reduce your pup's inflammation and cognitive aging, while helping to keep their teeth clean and their breath fresh.
Flaxseed – Full of protein, fiber & omega 3s – making this great for your pup's heart, digestion, coat & skin.
Coconut Oil – Healthy fats that are great for your pup's skin and coat.
Parsley – Antioxidant-rich, supporting bone, eye and heart health.
Cinnamon – Antioxidant and anti-inflammatory, making it great for heart health and blood sugar.
Ginger – Anti-inflammatory and antioxidant-rich, while calming to the stomach and aiding in digestion. Can help with heart and blood sugar levels.
2