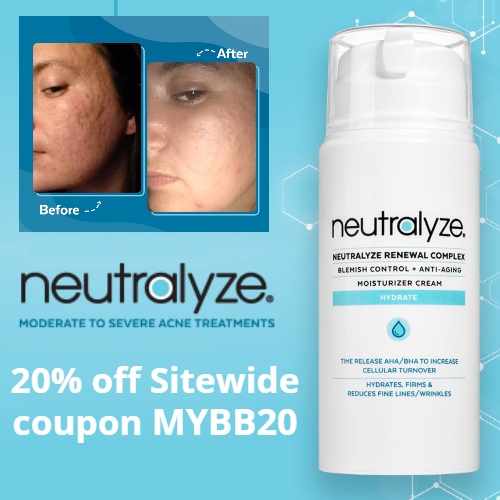 Neutralyze is the world's first acne treatment system to add the power of Nitric Oxide, which is clinically proven to noticeably improve moderate to severe acne within just a few days. Neutralyze anti-acne products enhance your skin's natural healing capabilities, rendering acne, and the inflammation and redness that accompany it, totally powerless.
Nitric Oxide is an amazing substance that is naturally produced by your own body. It helps increase blood flow, which promotes your skin's ability to fight the main acne culprit – inflammation. Neutralyze's team of expert scientists figured out a way to recreate this "magical", natural substance on the skin's surface. When you use the Neutralyze Acne Treatment System in the proper order, Nitric Oxide is produced and it begins fighting the battle against inflammation while healing your skin. It is so powerful that it starts working immediately, allowing you to see results in as little as 24 hours! Their advanced, science-inspired, medicated products bring your skin back to a neutral state of clear, calm, even-toned, glowing health.

The Neutralyze product line includes Acne Clearing Serum, activating Synergyzer, Face Wash, Exfoliating Pads, and Renewal Complex.
Fun Fact: Neutralyze is a #1 best seller and one of the top-selling skincare products! They have received thousands of 5-star reviews from people suffering from moderate to severe acne and have been featured in Elle, Marie Claire, Allure, and more!
Get 20% off Sitewide at Neutralyze using coupon MYBB20. Standard shipping is $5.95 or Free on orders of $30 or more. Coupon is not valid on subscription orders.
Not sure which products to start with? Check out their Moderate To Severe Acne Treatment Kit 2.0. You'll get their Acne Face Wash, Acne Clearing Serum, and Synergyzer, for only $32 with coupon MYBB20.
Neutralyze guarantees results! They stand behind their products with a 365-Day, 100% Money Back Guarantee. If for any reason you are not completely satisfied with your purchase of Neutralyze, they will provide a full refund (less shipping). Return policy is limited to one item per customer. If you purchase multiple items and are unsatisfied, they will provide a refund on your most recent transaction only.
4