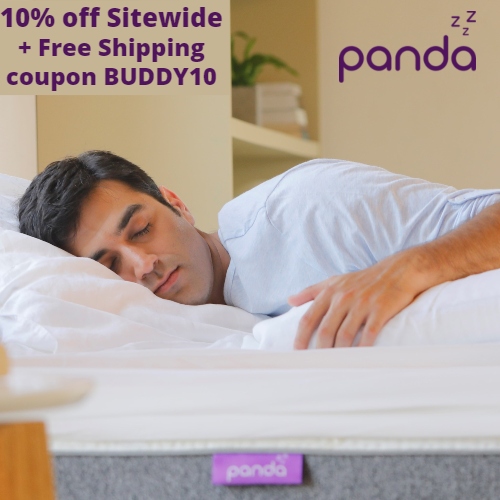 Upgrade your mattress for less with PandaZzz. Their mission is to make sleeping easier, healthier, and affordable for everyone. Incorporating the latest developments in sleep technology, PandaZzz delivers all-night coolness and comfort with next-generation mattresses, toppers, and pillows.
Designed by world leaders in sleep engineering, their multilayer, expertly engineered memory foam mattress is ideal for everyone, whether you're a back, stomach, side, or combination sleeper. Their triple layer technology includes Cool & Flex, AirCell, and Premium Base layers. The Cool & Flex layer is super soft and designed to hug your body for ultimate comfort. The AirCell layer grabs body heat while you sleep to keep you cool through night. The Premium Base provides total body support – rated 6 out of 10 on the firmness scale, this mattress gives you the perfect balance of softness and support.
PandaZzz toppers and pillows enhance your sleeping experience even more. The toppers give you added softness and include multi-layer cooling technology. They even have an on the go option – The Crash Pad. This foldable memory foam topper offers a versatile fusion of softness and support. Toss it on top of your mattress or lay it out on the floor for a great alternative to an air mattress. It's convenient to have on hand for visitors or to have for camping & road trips.
Each of their pillows offer unique benefits. The PandaZzz Hybrid Pillow can be flipped to fit your sleeping preferences. The PandaZzz Copper Pillow provides enhanced antibacterial and cooling properties. Their Lavender Pillow is great for stress and insomnia. This soothing, essential oil-infused memory foam pillow releases the aroma-therapeutic benefits of lavender the moment your head hits it and lavender's antimicrobial properties keep your PandaZzz Lavender Pillow squeaky clean!
PandaZzz is so confident you'll love their sleep products, they offer a 100-day sleep trial for all mattresses & toppers and a 30-day sleep trial for pillows. If you decide a product isn't right for you, just let them know and they'll refund your money. They'll even come pick up the item for Free!
Get 10% off Sitewide at PandaZzz using coupon BUDDY10. Mattresses come with a 12-year warranty and toppers & pillows come with a 1-year warranty. All orders include Free shipping & Free returns!
1