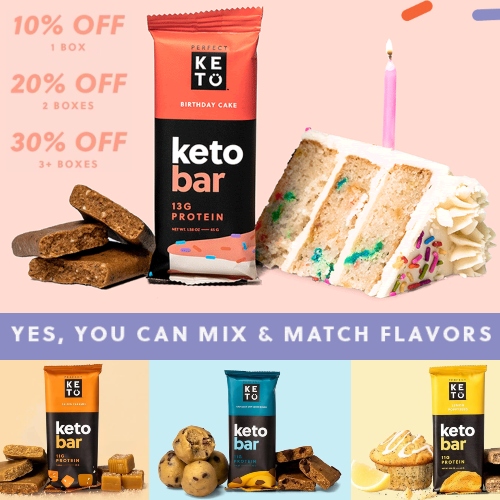 Perfect Keto is at it again with a fun new flavor! Their Birthday Cake Keto Bars are the perfect remedy for your sweet tooth. These decadent, keto-friendly bars have only 3g of net carbs and no sugar, sugar alcohols, additives or fillers.
Get 10% off 1 box, 20% off 2 boxes or 30% off 3 or more boxes. Shipping is Free on all orders over $29.
Mix/match ANY Keto Bar flavor to get this discount. Simply add the ones you want to your cart and the discount will appear automatically. Coupons and subscribe & save discount cannot be combined with this promo. If you want to order something else, you can get 15% off using coupon 15KETO. Coupon will not work on bundles, which are already up to $98 off.
Available flavors:
🍫 Almond Butter Brownie
🍋 Lemon Poppyseed
🍯 Salted Caramel
🍪 Chocolate Chip Cookie Dough
🍮 Cinnamon Roll
🍰 Birthday Cake
10