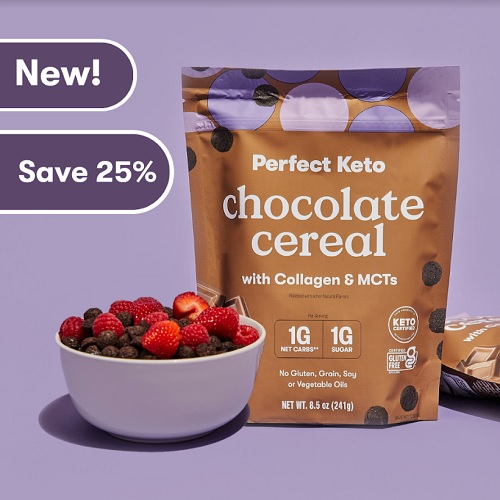 All Perfect Keto products are made with real food ingredients to promote better health. They contain no gluten, grains, soy, corn, added sugar, artificial flavors/colors, fillers or chemicals. Whether you're just starting a keto diet or you've been living a keto lifestyle for years, they've got all the snacks and supplements you need to stay on track!
This week, they launched their most requested cereal flavor to date – CHOCOLATE. It's a convenient breakfast, a great grab-n-go snack, or a healthy dessert to satisfy your sweet tooth with only 1-2g of net carbs and no unpronounceable ingredients.
It is the only chocolate cereal with no soy, corn, grains, gluten, added sugar, or vegetable oils. It is also available in Honey Nut and Cinnamon. These spoonable little morsels are grown up but not boring with flavor and crunch you're guaranteed to love!
Through 4/17, you can get 15% off 1 item, 20% off 2 items, or 25% off 3 or more items. Simply add products to your cart and the discount will apply automatically. Shipping is Free on orders over $45. All Perfect Keto products come with a 30-day satisfaction guarantee.
1