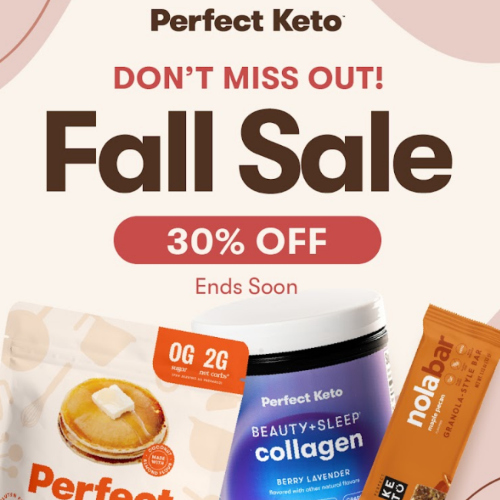 There's something about the start of fall that can be so motivating. Maybe it's knowing the year is almost over and time is running out on meeting goals. Or it could just be the refreshingly cool mornings are so energizing. Whatever the case, Perfect Keto is here to keep you FRESH for fall with their Build Your Own Bundle promo, happening now through the 23rd.
Here's how it works:
🧺 You pick 3 or more keto snacks and supplements that will help you make the most progress toward your goals.
👉 A 30% discount is automatically applied at checkout
Fan-favorites like Nola Bars, Keto Collagen, and Mac & Cheese are all eligible, as well as nut butters from SuperFat and their newly added Vegan Keto Bars.
If weight loss is one of your goals, consider including Exogenous Ketone Base in your bundle. Adding a scoop to your coffee or almond milk can help transition your body into ketosis.
If supported immunity is a high priority for you, opt for their Daily Electrolytes. It provides 125% of the daily recommended vitamin D, which is super helpful when your body is fighting off germy invaders.
Shipping is Free on orders over $60 and all products are backed by a 30-day money-back guarantee. Extra discount will not apply to subscriptions.
Ordering only 1 or 2 items? You can get 20% off Sitewide using coupon PKBUDDY20.
18