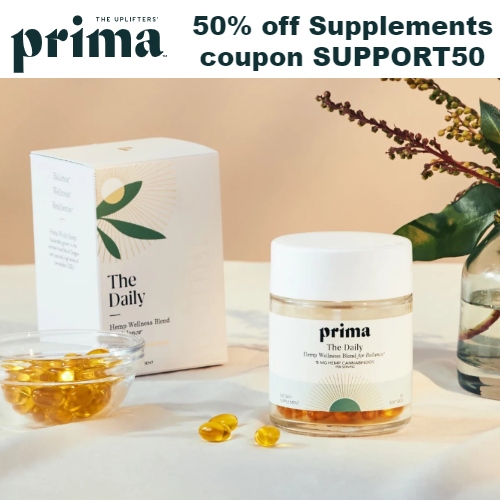 While navigating these uncertain times, it helps to turn our focus toward the things that matter most – health, family, connection, hope, giving and love. In the spirit of contribution and giving, Prima feels strongly that everyone should have access to products that can offer support and relief. To live this commitment, they're offering 50% off their trusted hemp CBD supplements with coupon SUPPORT50. Shipping is Free on orders of $75 or more.
30 days to try it and love it – or send it back. Every product comes with the promise of real support, heartfelt care, and your peace of mind. If, for any reason, you are dissatisfied with your purchase, simply reach out within 30 days of receiving your order and they'll take care of it.
The Daily Essential Blend for Body & Mind
Designed to activate and align your natural body systems to restore balance that helps support everyday stress, sleep, recovery, mood and immunity.
Rest Easy Elixir
Blend of broad spectrum hemp CBD and botanicals traditionally used to help calm, relax and ease into a peaceful night's sleep.
The Trifecta Beverage Infusion Sample Pack
Blend of broad spectrum hemp CBD and nootropic and adaptogenic superherbs made to support the brain in finding clarity, concentration and better cognition.
2