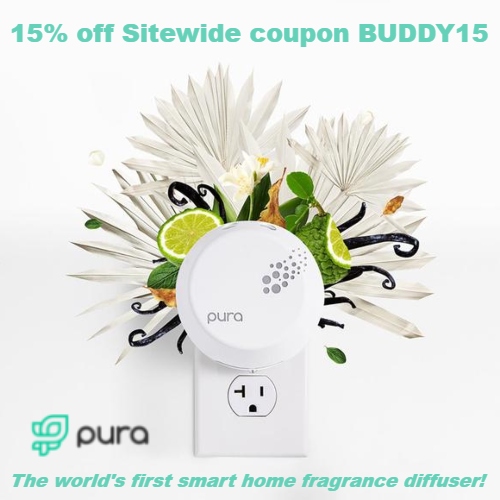 Pura offers the world's first smart home fragrance diffuser. Their smart home technology marries air fresheners and mobile apps, so you can fully control the scents in your entire home; anytime, anywhere from your phone.
The Pura Smart Home Fragrance Diffuser comes in a simple and elegant design with an LED ambient nightlight. This smart diffuser allows you to customize your scent experience with designer grade fragrances from premium brands you know and trust like NEST, Capri BLUE, Apotheke, Disney, Tommy Bahama, and more. You can control the app from anywhere, create custom schedules, adjust scent intensity, swap between 2 scents, and turn on the away mode so you're not wasting your fragrances when no one is home.
Pura offers a huge selection of fragrances, which you can browse by scent – citrus, fresh, floral, fruity, woody, and oriental. All Pura fragrances are safe and ethically sourced. They are thoughtfully designed to never include harsh chemicals or ingredients known to cause potential harm to health or the environment.
Get 15% off Sitewide at Pura using coupon BUDDY15. Be sure to check out their already discounted gift sets. The Pura diffuser and gifts sets ship Free. Fragrances ship Free when you buy 2 or more.
For extra savings, consider a fragrance subscription. Having a Pura fragrance subscription is the easiest way to keep your device filled with your favorite fragrances. All subscription orders are automatically 30% off + you'll get another 15% off your first shipment with coupon BUDDY15. You can easily swap fragrances, add discount and reward codes to upcoming orders, adjust order intervals, skip orders, pause, or cancel anytime.
The Pura diffuser comes with a 30-day money back guarantee and a lifetime warranty. Fragrances come with Free 30-day exchanges. If the fragrance isn't for you, you can send it back and get a new one! Only valid for fragrances of equal or lesser value and on the first order of a specific fragrance. Promotional items are not eligible for exchange.
7