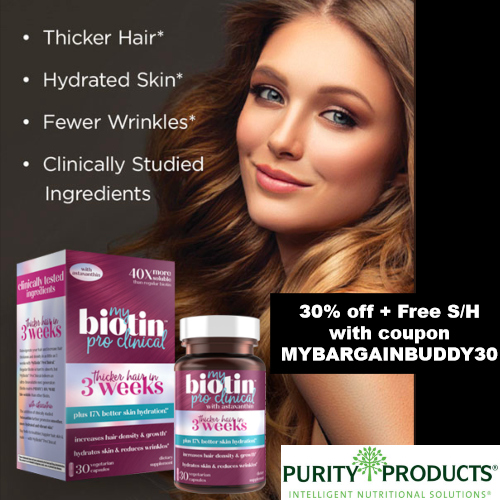 If it feels like the stress from the last couple years have taken a toll on your hair and face, you're not alone. And if you're the kind of person that doesn't go down without a fight, take a look at MyBiotin ProClinical at Purity Products.
MyBiotin ProClinical increases hair density after just 3 weeks of daily use and by week 12 you can see up to 20% thicker hair.
The secret to MyBiotin ProClinical's amazing results is the patented MB40X Matrix, which combines Magnesium Biotinate with Arginine Silicate. MB40X delivers more Biotin to your scalp and skin than regular biotin. Plus, with the addition of clinically studied Astaxanthin, MyBiotin ProClinical delivers 17X more skin hydration when compared to a placebo, resulting in more hydrated skin and less fine lines & wrinkles.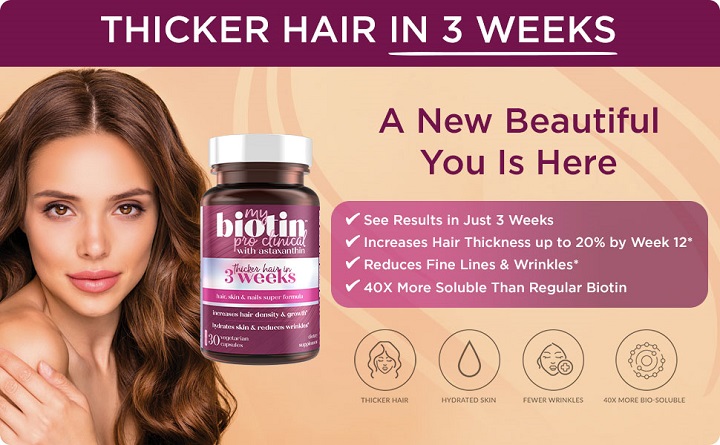 Get 30% off MyBiotin ProClinical at Purity Products using coupon MYBARGAINBUDDY30. Coupon will apply to a one-time purchase or the first shipment of a subscription order (in addition to the $5/bottle discount).
This product is currently selling for $39.95 at Amazon where it has a 4.2 out of 5 star rating with 61 reviews. With this deal, you'll save at least $12 on each bottle!
6