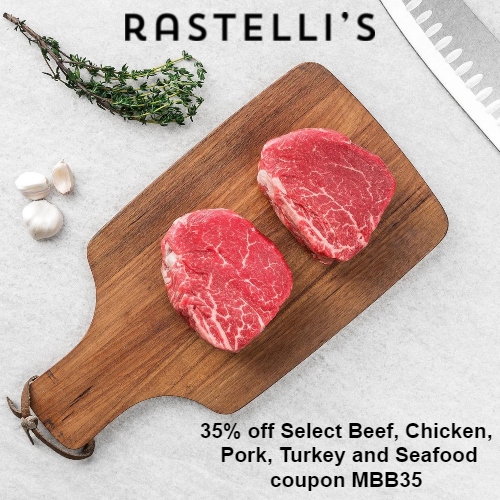 Rastelli's premium meats make it easy to create a restaurant quality dinner at home.
Rastelli's has been selling sustainably sourced meats since 1976. They carry only the highest quality meats, processed in their state-of-the-art facility, which was nationally recognized as an industry leader in food safety.
With Rastelli's you can always count on perfect cuts, with none of the fat and gristle left behind by most grocery stores. All of their beef, pork and poultry is responsibly raised, antibiotic-free, steroid-free, and hormone-free and all of their seafood is sustainably fished or raised-in-the-wild.
Your order will arrive to your door frozen in vacuum sealed packaging and can stay fresh in your freezer for up to a year! Rastelli's flash freezes their meats so that all the microbes in the protein are inactivated, preserving it in a state of superior freshness.
Get 35% off Select Beef, Chicken, Pork, Turkey and Seafood at Rastelli's using coupon MBB35. Shipping is Free on orders of $200 or more.
Rastelli's stands behind their meats with a guarantee. If you're unsatisfied with any product, they'll refund you. Simply contact them within 21 days of your shipment, and they'll refund all or a portion of your shipment, depending on the circumstances.
7