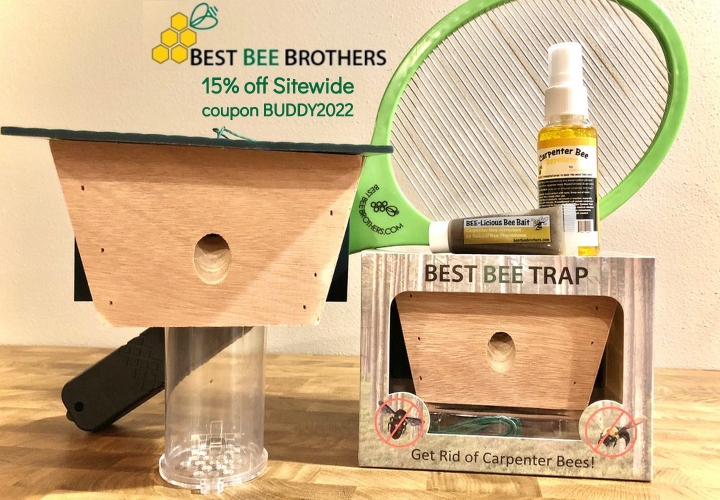 Ladies and gentlemen, it is time to batten down the hatches – carpenter bee season has arrived! Are you and your home prepared for the dreaded destructive wood nesters?
Carpenter bees (not to be confused with their cute, pollinating cousins, bumble bees) are bees that want to make the wood of your beautiful home their beautiful home. Using their jaws they dig tiny holes into the wood structure, lay eggs and live there year round (yikes) or until they are removed. If this has happened to you or a neighbor, you know how expensive it is to fix their damage. Just the removal alone is an average of $300 and that doesn't guarantee they won't return.
Why not just go the easy route and protect your home from Carpenter Bees the easy way – with the most effective carpenter bee trap on the market?
Best Bee Brothers has created a permanent solution for trapping those pesky wood burrowing bees naturally, without the use of chemicals. Their Best Bee Brothers also offers a selection of natural mosquito & bug repellents, wasp traps, and other products to keep you and your family protected from potentially dangerous pests. Best of all, their products are free from chemicals. The brothers stand by their natural products, keeping their promise to provide safe and effective protection for what matters most – your family and your home. All products come with a 100% satisfaction guarantee.
"Bee" safe this bug season and proactively protect your home from the damage of carpenter bees. It's time to check out what all this Best Bee Brothers buzz is about!
Get 15% off Sitewide at Best Bee Brothers using coupon BUDDY2022.
Sign up for my email newsletter to get tips like this delivered to your inbox!
14