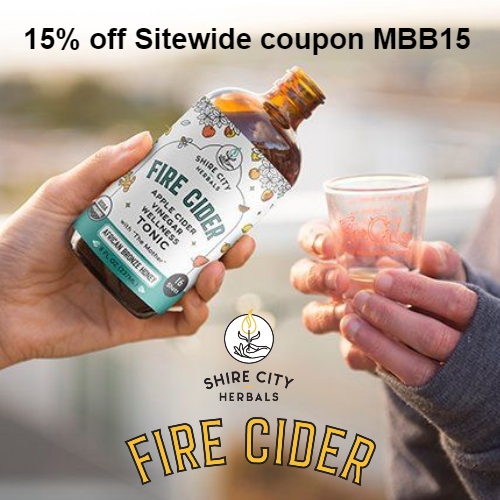 Shire City Herbals makes Fire Cider, an apple cider vinegar tonic infused with superfoods, including turmeric, ginger, garlic, lemons and oranges. Fire Cider tangy apple cider vinegar tonic is the perfect addition to your daily wellness routine. Every tablespoon of Fire Cider packs an energizing punch of concentrated ingredients designed to support your health and vitality. It's the perfect start to your day!
You can use Fire Cider as a salad dressing, in your favorite beverage (adult or otherwise), or straight from the bottle. You only need a tablespoon a day, so one bottle goes a long way. However, if more than one person in your house is drinking it, you'd like to gift a bottle, or you just want to get the most bang for your buck, multi-packs are available at a discount. Fire Cider is also easy to store. It stays fresh in your pantry for 24 months!
Get 15% off Sitewide at Shire City Herbals using coupon MBB15. Shipping is $5.99 or Free on orders over $55.
11