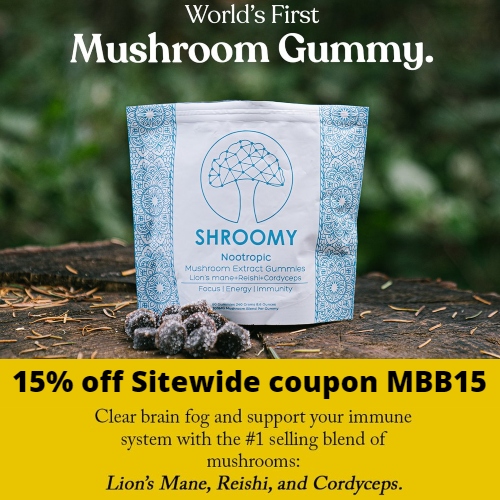 Shroomy offers the world's first nootropic mushroom infused gummy designed to pick up where your multi-vitamin lets you down. Non-psychoactive, Shroomy Mushroom Gummies utilize three specific mushrooms known for their amazing benefits on the mind and body – Lion's mane, Reishi, and Cordyceps. Their potent and meticulously tested gummies contain a 300MG blend each of mushroom, so you get the full benefits of all three.
Benefits include:
Lion's Mane – Known for cognitive benefits, they can reduce stress & anxiety levels, support memory & focus, protect against the early signs of dementia, repair damaged nerves, and create new neural pathways to the brain. They also promote healthy digestion and boost the immune system.
Reishi – Known as the 'Mushroom of Immortality' for it's anti-aging properties, this mushroom boosts the immune system, acts as a natural anti-inflammatory, protects cellular DNA from oxidant damage and stimulates brain neurons, and increases the activity of cells that fight infection in the body.
Cordyceps – Shown to increase the body's production the molecule ATP, which is essential to delivering energy to muscles. These mushrooms improve lung capacity, improve the way your body utilizes oxygen while exercising, boost the immune system, and decrease inflammation.
Get 15% off Sitewide at Shroomy using coupon MBB15. Shipping is a flat rate of $4.80 or Free when you buy 3 or more bags. Shroomy Mushroom Gummies come with a 30-day satisfaction guarantee.
3