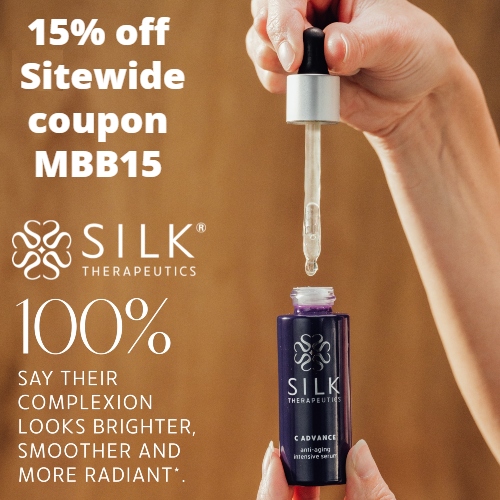 Stress, modern diets, the light from our screens, and other environmental factors all weaken and prematurely age our skin. Silk Therapeutics is here to help! Their formulas are created with Activated Silk™ molecules – which is real silk in liquid form. Their Activated Silk creates a healing hydration exchange that rebalances and deeply nourishes the skin barrier so it can de-stress, de-age, and give you your glow black!
Silk Therapeutics products fight dullness and the signs of aging and restore a radiant, even-toned appearance. Activated Silk attracts moisture, bringing support to stressed skin barriers. It locks in moisture, allowing your skin barrier to repair itself, and it's breathable to allow moisture and oils to regulate & prevent irritation.
With silk's skin-centering properties and nutrient-dense ingredients, Silk Therapeutics products are hypoallergenic, sustainably sourced, cruelty-free, and provide immediate and lasting results for fine lines, dry skin, smoother skin texture, and more. Most people see results in just 10 days!
Their product line includes serums, moisturizers, cleansers, exfoliators, eye & lip care, and body care. They have products for all types of skin & skin concerns, including sensitive skin, blemishes, anti-aging, dark spots, dullness, and more.
Get 15% off Sitewide at Silk Therapeutics using coupon MBB15. Shipping is $5 or Free on orders of $25 or more.
Want to try the products out before committing to full size bottles? Check out their Discovery Kit. For only $21.25 with coupon MBB15 ($40 value) you'll get 4 trial size bottles of their most popular products.
Want Free products? Join the Friends of Silk rewards program and you'll get every fourth formula Free! Simply purchase three products and then you can pick a Free product from their seasonal selection. All members also get Free shipping on every order – No minimum purchase required.
1