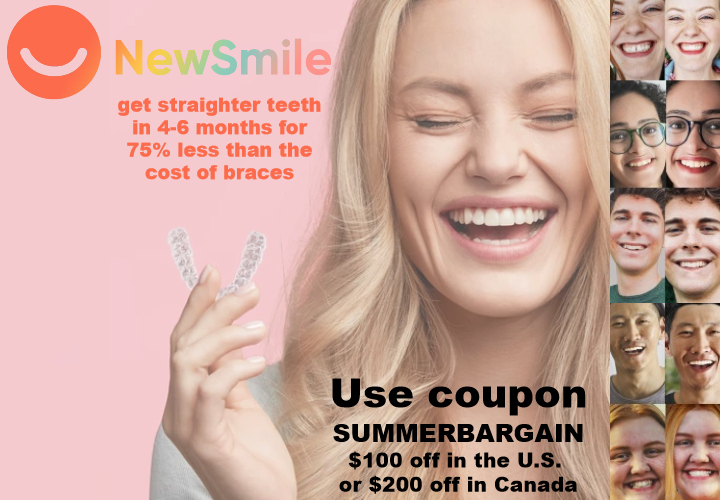 If you've always wanted straight teeth, but have been hesitant because of cost, time, and commitment, here's your a solution!
Many adults who don't love their smiles don't do anything about it because they don't want to wear clunky, uncomfortable braces or pay thousands of dollars for clear teeth aligners. Pair that with time consuming orthodontist appointments for months on end and getting the smile you want seems like it's just too much trouble.
NewSmile created a teeth straightening process that's easy and convenient for everyone. With NewSmile's clear teeth aligners, you can straighten your teeth at home for about 75% less than the traditional cost of braces and with no monthly dental visits.

First, they mail you an easy-to-use impression kit so you can create molds of your teeth. Once you send the molds back using the prepaid shipping label, their team of licensed dentists and orthodontists evaluate your teeth alignment, come up with a treatment plan, then manufacture your customized clear teeth aligners. Your aligners are mailed right to your home so you can immediately get started with the smile you've always wanted. You'll actually start seeing improvement in as little as 4 months!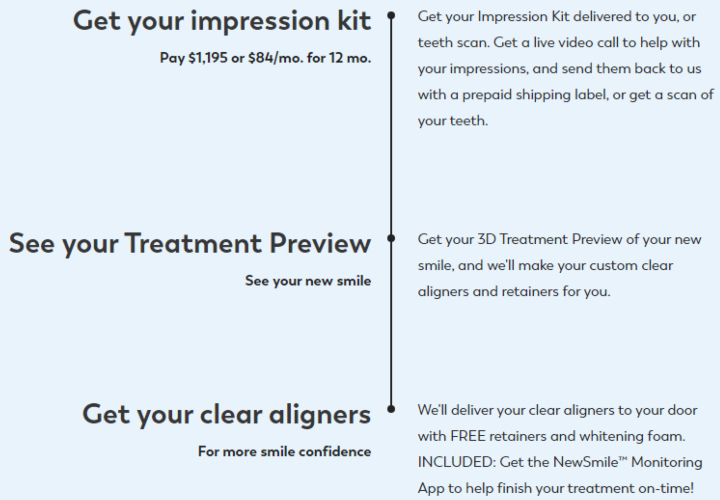 NewSmile even provides you with Free retainers ($149 value) and Free teeth whitening ($39 value) so your new smile stays picture perfect.
NewSmile offers 2 convenient full-service plans and they both ship Free and include an impression kit, treatment preview, aligners, retainers, and teeth whitening.
Fast Track Plan
This is their lowest priced plan. Normally $1,195, you'll get another $100 off using coupon SUMMERBARGAIN. Get the flashy smile you've always wanted for $1,095 all in!
12-Month Plan
Pay a one-time $295 deposit, a $10 processing fee, then $84 month for 12 months. You can also get $100 off this plan using coupon SUMMERBARGAIN, which drops the monthly payment to $75.84. The total cost for your new smile using this plan is $1,205.
NewSmile serves residents of the United States and Canada. Whichever plan you choose, be sure to get your extra savings with my coupon!
$200 off for Canadian residents with coupon SUMMERBARGAIN
NewSmile is Risk-Free – If their doctors determine that you're not a good fit, you'll be able to request a refund.

Sign up for my email newsletter to get tips like this delivered to your inbox!
12