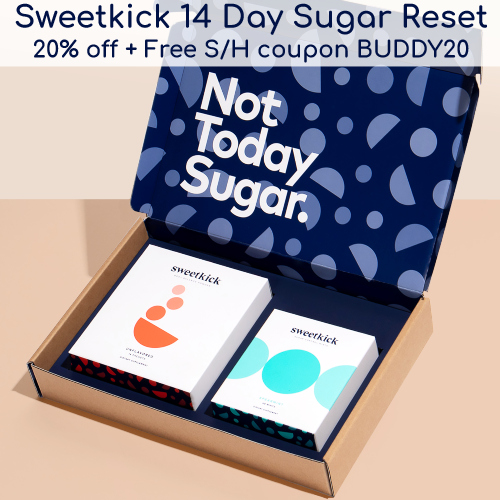 Reducing sugar in your diet can lead to significant health benefits, including energy stabilization, weight loss, better sleep, healthier skin, heart health and more. But we all know it's not an easy thing to do and that's where Sweetkick comes in!
The Sweetkick 14 Day Sugar Reset program helps you fight your daily sugar cravings and change your relationship with sugar.
The 14 Day Sugar Reset program includes –
48 Sugar Control Mints – When dissolved on your tongue, these plant-based mints use Chicory root and the Indian herb Gymnema Sylvestre to suppress the taste of sweetness in sugary snacks and beverages, reducing your desire to consume them. Enjoy a mint every 3-4 hours or when cravings typically strike. They block sweetness for up to an hour, allowing your sugar craving to pass.
14 Body Balance Powders – This formula is packed with a 100% vegan super blend of prebiotic fiber, vitamins, and minerals which help support healthy blood sugar levels, insulin production & gut health. They help your body metabolize carbohydrates and fat into lasting all-day energy. Just pour one packet into your favorite morning beverage to kickstart your low-sugar day.
Food Mentor Guide – Created by nutrition and fitness expert Harley Pasternak, this guide offers a list of foods to eat, regulate, and avoid to increase healthy fats, proteins, and fiber while reducing sugars.

Get 20% off and Free Shipping on the 14 Day Sugar Reset at Sweetkick using coupon BUDDY20. The 14 Day Sugar Reset comes with a 30-day money back guarantee!

4