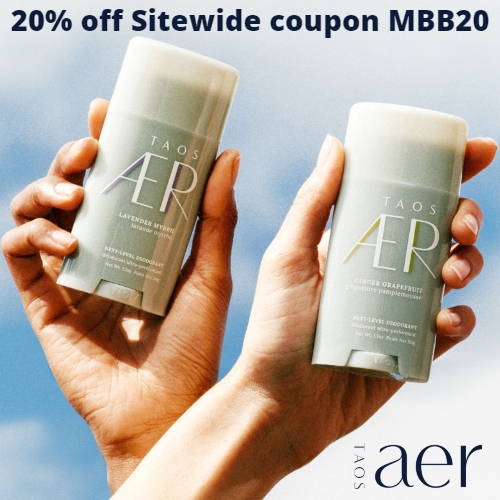 Inspired by the natural beauty of Taos, New Mexico, Taos AER offers award-winning clean deodorant that is truly natural, minimally-processed, extremely potent, and highly effective.
Taos AER uses only the highest quality, all-natural, minimally processed ingredients in their products that either meet or exceed the strictest international clean beauty standards. They are formulated without parabens, sulfates, aluminum, phthalates, propylene glycol, and synthetic fragrance, along with over 1,300 ingredients banned in the European Union.
Their concentrated waterless deodorant harnesses the power of mineral powders and potent plant actives to neutralize odor-causing bacteria and absorb excess moisture. It comes in a silky gel that glides on smooth and dries immediately into a soft powder, leaving behind no sticky residue.
By formulating their deodorant without water, Taos AER is decreasing the stress on community water supplies and the absence of water means there's no fillers, making it super concentrated so you only need a small amount for each application.
It comes in 5 great scents – Indie Lee x Taos AER Energize (bergamot, grapefruit, orange, and eucalyptus), Ginger Grapefruit, Palo Santo Blood Orange, Lavender Myrrh, and Citrus Vetivert.
Taos AER also offers hydrating organic lip balm & a lightweight, nourishing SPF 30 broad spectrum mineral sunscreen.
Get 20% off Sitewide at Taos AER using coupon MBB20. Shipping is $3.50 or Free on orders of $20 or more. Coupon is not valid on subscription orders.
All deodorant is backed by a 30-day easy return policy. If for any reason you don't love their deodorant, you have 30 days to return it for a refund.
Taos AER cares about the environment! In the high desert of Taos, scarcity of resources such as water has given them a profound appreciation for the Earth. They have taken many steps to formulate their deodorant entirely without water, eliminate cartons from product packaging, offset carbon emissions on all orders & ship them in recyclable mailers, and use 100% renewable energy at their headquarters & research facilities in Taos. To take responsibility for their current deodorant packaging, they've implemented a recycling program as they work towards achieving a more sustainable packaging solution.
1