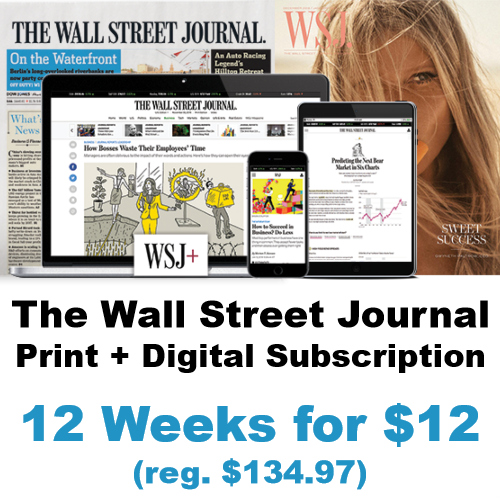 The Wall Street Journal is an important source of business and financial news. Hour by hour, they break news and deliver analysis and commentary that moves markets, influences business leaders and gives policy makers pause. But they also do much more. The Journal provides intelligent and enlightening coverage on everything from foreign policy to second homes, from Napa wines to the NFL.
Subscribe today and pay just $12 for your first 12 weeks to get all the coverage you need with their print + digital package, including –
– 6-day home delivery and WSJ. Magazine
– Unlimited access to WSJ.com
– WSJ mobile and tablet apps
– Informative podcasts, featuring interviews with WSJ editors and notable influencers
– WSJ+ Premium Benefits Program, with complimentary access to an unmatched selection of events, offers and experiences
After 12 weeks is up, this subscription is $38.99 + tax per month thereafter. You can cancel any time. Other subscriptions (classic print and all access digital) are also 12 weeks for $12. Additionally, you can opt for a 6- or 12-month subscription and save 50% when you pay upfront.
18