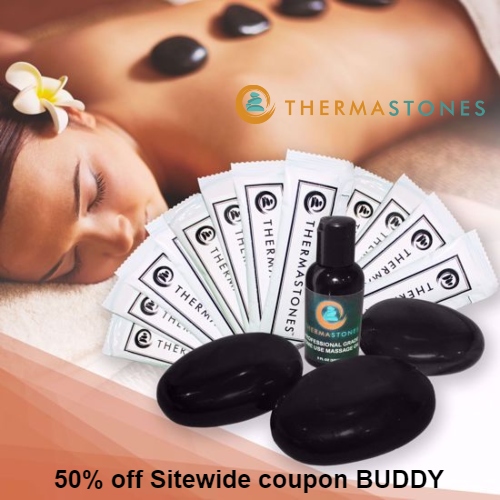 Hot stone massage helps melt away tension, ease muscle stiffness, and increase circulation and metabolism, something we could all use! But massages at a spa can be expensive, time consuming, and maybe not something you're quite comfortable with during a pandemic. Thermastones allow you to enjoy the healing effects of a spa quality hot stone massage at home!
The comforting heat of Thermastones wash the stress of the day away. You can use the stones on your own, just rub the Thermastone over your aching joints to release any discomfort. Or buy a couple's package that comes with a hot stone massage guide so you can become an expert overnight! Their stones are 100% non-toxic and easy to use. It only takes 30 second to heat the stones with their Lava Gel Charges and they stay warm for over an hour.
Get 50% off Sitewide at Thermastones using coupon BUDDY. All packages come with Free lifetime Lava Gel Charges (limited to 4 per month), you just pay $4.99 for shipping and handling.
2