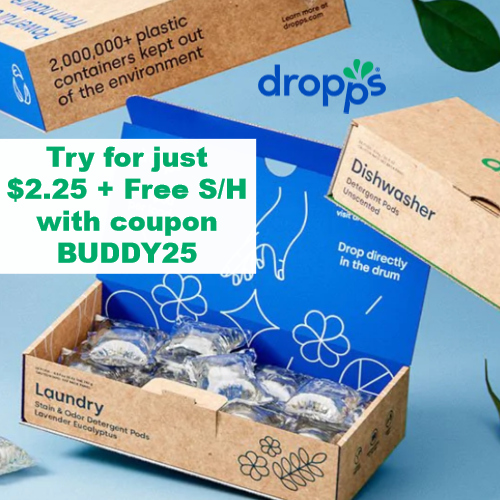 This post contains affiliate links. See my disclosure policy for more details.
Eco-friendly household cleaning products shouldn't cost twice as much and work half as well as leading brands. With Dropps Laundry and Dishwasher Pods, you won't sacrifice on product performance and you won't pay more.
Try a 6-count trial pack for just $2.25 + Free shipping using coupon BUDDY25.
Ordering a this trial box automatically enrolls you in a subscription. But don't let that scare you off! The subscription doesn't start until 30 days after you order, so you'll have plenty of time to change box size, scent, pause your next shipment, or cancel.
I can tell you from personal experience, Dropps is an amazing, customer-focused company and changing or canceling a subscription is totally hassle-free. (But after you try their products, you'll probably turn into a raving fan like I did and pass out pods to your friends and family when they come to visit!)
Choices include –
Stain & Odor Laundry Pods – Their best detergent for everyday deep cleaning and long lasting freshness. A hint of citrus, a touch of pine. Like your laundry was line-dried in the sun.
Unscented Sensitive Skin & Baby Laundry Pods – Gentle cleaning for sensitive skin, delicates, and natural fibers.
Active Wash Fresh Start Laundry Pods – Performance detergent designed for activewear and synthetic fabrics. The essence of morning dew with a bright, fresh green fragrance blend.
Dishwasher Detergent Pods – This triple-action dishwashing detergent uses natural minerals to rinse away baked-on food and stains, no pre-wash needed.
Another great thing about Dropps Subscriptions is they are always 25% off and you can schedule deliveries every 1, 2, 3, 4, 5, or 6 months! If you want to skip this trial offer and place a regular order or a new subscription order, you can get 25% off Sitewide using coupon BUDDY25.
3