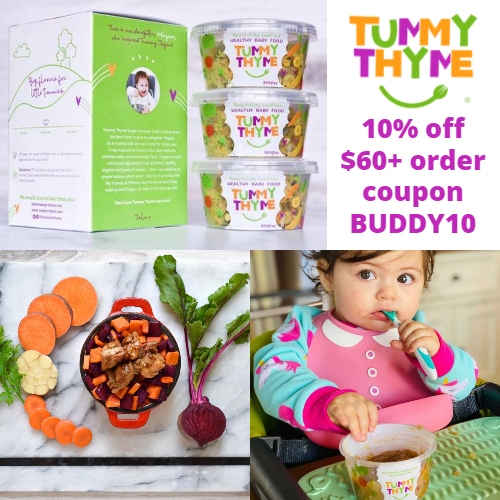 We all know toddlers are picky eaters! It can be difficult to find healthy foods that they'll actually eat. Tummy Thyme offers handmade, healthy, organic baby & toddler food that they will love! Their meals are cooked fresh, frozen, and delivered straight to your door – Making it easy to feed your kiddo nutritious meals.
Lifelong eating habits are created in the first few years of life. Exposing your baby and toddler to a wide variety of foods and textures will reduce the chances of texture aversion and will increase the likelihood you will have an adventurous, healthy eater on your hands. Tummy Thyme recipes have been carefully curated to meet your baby's developmental and nutritional needs. Their meals are nutritious, flavorful and designed to stimulate your baby's palate and visual curiosity. As your baby develops, so does the need for texture transition. Tummy Thyme offers purees, textured and chunky meals as well as finger food to meet all of your child's needs.
Their extensive menu includes delicious meals like grass-fed beef & ricotta meatballs with risoni, baked chicken & veggie rolls, spinach & banana pancakes, butternut squash mac n' peas, apple & raspberry coconut quinoa, veggie lasagna, and much more.
Get 10% off your order of $60 or more at Tummy Thyme using coupon BUDDY10. Coupon is not valid on subscription orders.
Did you know? – Shelf-stable baby jars and pouches can sit on the shelf for up to two years before it reaches your baby's tummy?! Tummy Thyme meals, on the other hand, have undergone little to no processing or refinement. Immediately after cooking, they freeze their food, locking in important vitamins and minerals without the need for preservatives. Fresh-frozen gives you the added convenience of prepared wholesome food without needing to rely on highly refined, shelf-stable products.
2