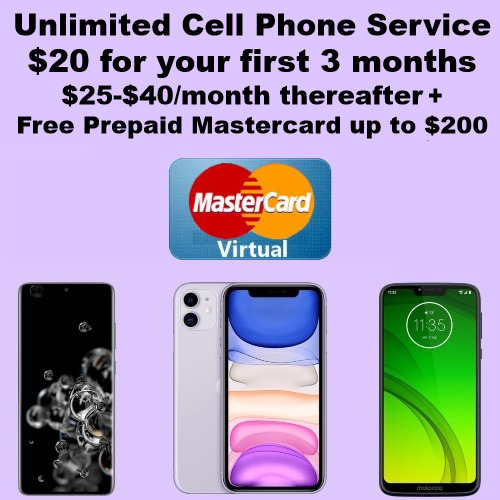 One of the quickest ways to cut your monthly expenses is by lowering your cell phone bill. By now, you've probably heard of many off-brand carriers that provide cell phone service at highly discounted rates, but perhaps you've been nervous about switching because you don't know how reliable they are. I've got a solution for you!
Visible Cell Phone Service by Verizon is just $40/month all-in for unlimited data, messages and minutes on Verizon's 4G LTE and 5G Networks. Mobile hotspot is included and there are no contracts.
Switching is easy and you can bring your own phone. Simply check your phone's compatibility and create an account. They'll send you a SIM card with next-day shipping. Insert it into your phone and activate your service. For a limited time, you can get your first three months of service for just $20 using coupon 20FOR3.
You can also get –
A Free $100 Gift Card if you bring your own phone. You can choose a gift card from Amazon, Target, Southwest Airlines and a bunch of other retailers and restaurants.
A Free $50-$200 Prepaid Mastercard with select phone purchase
You can save even more with Party Pay. It's like a family plan without the family drama. Service is $35/month per line with 2 plans, $30/month per line with 3 plans, or $25/month per line with 4 plans. You'll get unlimited service on separate accounts with separate bills. There's no managing someone else's phone service like on a regular family plan. Everyone has their own account and their own bill!
4