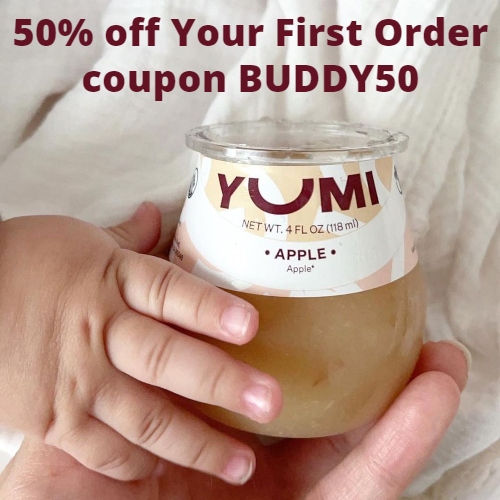 The first 1,000 days of a child's life is a period of rapid physical growth and mental development, a time when the brain grows more quickly than at any other time in life. Nutrition provides the fuel that drives a baby's early development. Specific nutrients, such as iron, calcium, and healthy fats can have a lasting impact on a child's neural, physical, and future metabolic health.
Most shelf-stable baby foods don't meet the nutritional needs for growing babies, plus they're packed with preservatives and too high in fruit sugars. You could make your own baby food, but that can be very time consuming and quality ingredients can get expensive. Yumi has a better option!
Yumi delivers freshly-made, nutrition-first meals and snacks for babies and toddlers straight to your door every week. With help from a board of health & medical advisors, Yumi makes sure every ingredient has a purpose. They blend science with fresh, organic, nutrient-dense foods sourced straight from local farms to help children reach their full potential at every stage.
Their nutritionist developed & pediatrician approved Yumi Milestone Plan gives you a custom menu just for your baby that supports brain development and their growing body. The weekly menu is based on their stage of development to introduce your baby to the right ingredients at the right time.
Yumi has over 100 flavors to help your child develop their palate. All meals are 100% certified organic, kosher, and gluten-free. They are never fortified and contain no preservatives or added sugars.
You can choose 1, 2, or 3 meals per day. All Milestone Plan orders ship Free and if you pay monthly you'll get an extra 20% off! You can customize your menu anytime to ensure you're getting your kiddo's favorites and there are no commitments. You can skip or cancel anytime.
Be sure to check out their Mini Mart for premium vitamins for toddlers, kids & adults, nutritious snacks, full sleeve bibs, and insulated totes to keep meals fresh on-the-go.
Get 50% off your first order at Yumi using coupon BUDDY50. Mini Mart orders ship for $6 or Free on $50 or more. All meal plan orders ship Free!
Yumi Multivitamin Biteamins come with a 30-day money back guarantee. Valid for 1 bottle on your first purchase.
5