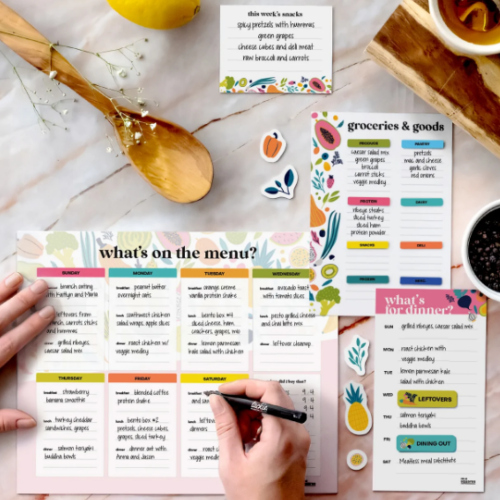 Planning your grocery trips, snacks, and meals ahead helps you begin each week feeling confident, organized, and well-prepared. Set yourself up for success with this 30-Piece Meal Planning Bundle with Reusable Notepad and Sticky Notes.
These sticky notes and notepad allow you to write, erase, and reuse thousands of times! Add groceries to a reusable list throughout the week or as you plan meals, then erase and reuse after each trip to the store. Let everyone know what's for dinner and/or what snacks you have on hand without being asked – Everyone can refer to lists that stick to your fridge!
Use coupon MBB20 for 20% off sitewide and this bundle is just $15.99. All orders currently ship Free!
Each bundle includes:
(1) Reusable Weekly Meal Planning Notepad, (1) Reusable Grocery List Stickie, (1) Reusable 'What's for Dinner' Stickie, (11) Reusable Labels, (2) Reusable Sticky Notes, (12) Reusable Stickers, (1) Tackie Hang Tag, (1) Tackie Marker
2