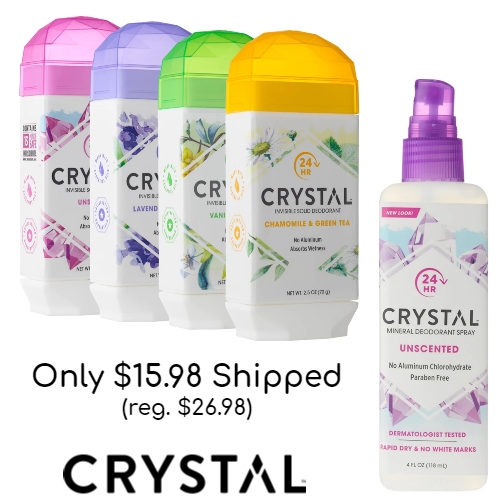 Score this 4-PK of CRYSTAL Invisible Solid Deodorant (reg. $18.99) and a Free Unscented Mineral Deodorant Spray ($5 value) for just $15.98 shipped using coupon GRLPWR6 (valid for $6 off $15 or more). Shipping is $2.99 or Free if you add something else to your cart so your total is $19.99 or more AFTER coupon.
CRYSTAL Invisible Solid Deodorant effortlessly eliminates odor while absorbing excess moisture with a touch of baking soda. The unique domed shape glides on silky smooth, conditioning the skin with nurturing ingredients like Mimosa Leaf and Sweet Violet Extract. The inclusion of odor-neutralizing essential oils, including Lotus Blossom and Orange Peel Extract, delivers long-lasting 24-hour protection.
Unscented Mineral Deodorant Spray dries quickly to provide an invisible, protective barrier to block odor before it starts. (This will be added to your cart Free of charge automatically with any order of $16 or more).

8