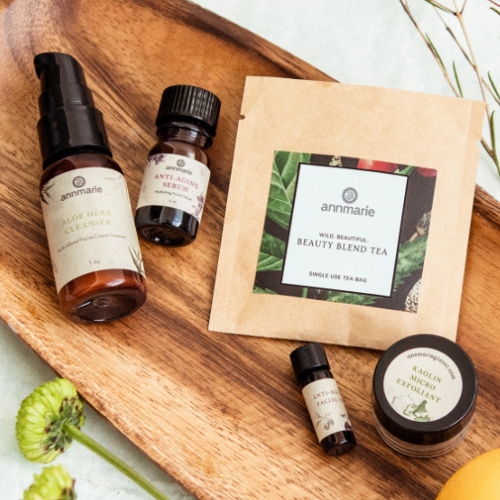 This Annmarie Skin Care Glow Set is guaranteed to revive and illuminate your skin in 7 days, courtesy of four all-natural elixirs proven to reveal radiantly healthy skin. Annmarie uses the best organic and wildcrafted ingredients mother nature can provide. They contain no synthetic chemicals, colors and fragrances.
This set includes:
Aloe Herb Cleanser (1 oz)
This pH-balanced elixir is formulated to purify and moisturize dull, active skin—all while removing makeup and buildup thoroughly.
Anti-Aging Serum (5 ml)
Infused with non-GMO hyaluronic acid and organic sunflower seed oil, ginkgo leaf, and life-everlasting flowers for bouncy, firmer-feeling skin with with antioxidant-rich herb extracts.
Anti-Aging Facial Oil (sample size)
This luxurious, herb-infused formula delivers intense moisture to keep dry and mature skin supple and dewy.
Kaolin Micro Exfoliant (sample size)
This revitalizing treatment leaves skin polished, flawless and restored.
Beauty Blend Tea (single-serve sample)
Lightly-caffeinated and full-bodied, it's formulated to stimulate a healthy glow from within.
Coupons cannot be applied to this set, but if you see something else you want, you can get 20% off sitewide using coupon MBB20. Coupon is not valid on sample kits or travel sizes.

3