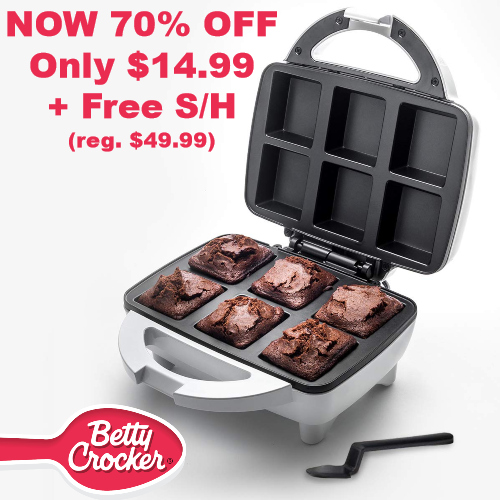 Bake brownies and other sweet treats without having to turn on your oven with this Betty Crocker Brownie Maker and Snack Factory. Fun and easy to use, it works like a waffle maker and has 6 non-stick baking reservoirs. The result? 6 scrumptious brownies that are even better than a traditional corner piece because they are crunchy on all 4 sides! Comes with a spatula, recipe guide, and 1-year warranty.
On sale for $15.99, you'll get another $1 off this dessert maker using coupon BUDDYBCKR, making it just $14.99. Shipping is Free on all orders. There is no limit on how many you can order at this price using this coupon. Snag one for yourself and one or two for gifting (stick them in a closet and hang onto them for Christmas)! Even older kids would love a gadget like this!
This item is currently selling for $29.99 at Amazon where it has a 4.5 out of 5 star rating with 36 reviews.
6