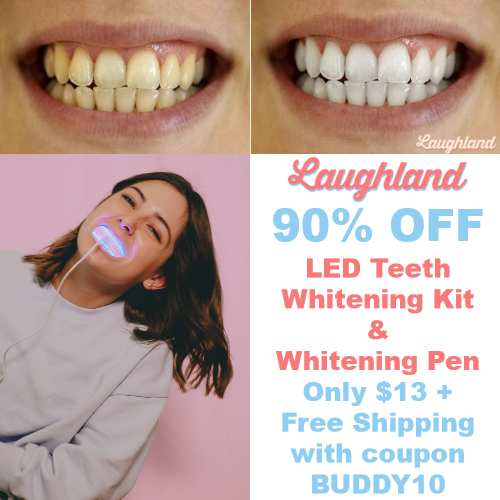 Laughland is celebrating their 3rd year in business by offering their LED Teeth Whitening Kit for just $9 (that's 90% off list price!) when you opt for a subscription on whitening gel ($25/per refill).

Laughland's LED Teeth Whitening Kit is a pain-free way to get whiter teeth from the comfort of home. The device is proven to increase brightness by over 75% without increasing sensitivity. The whitening gel is safe for your gums and tooth enamel. Each kit contains 3 syringes of whitening gel that lasts for 6 treatments. They recommend users to re-whiten every 2-4 months or as needed.
Shipping is $5.99, but when you add the whitening kit to your cart, you'll see a pop up offering Free shipping if you also order their Teeth Whitening Pen for $9 (it's normally $30). Use coupon BUDDY10 (valid for $5 off a subscription or $10 off a one time order) and you can get both the whitening kit and pen for just $13 shipped. If you don't want the pen, you'll get the whitening kit for $9.99 shipped using coupon BUDDY10 (excluding tax).
About Laughland Subscriptions –
Customers who opt-in for the subscription discount must complete one cycle of subscription before canceling the subscription. Customers who do not wish to subscribe should purchase the non-recurring, non-subscription plan instead. Alternatively, customers can pay a one time $30 early-cancellation fee to end the subscription early before the 1st cycle.
2