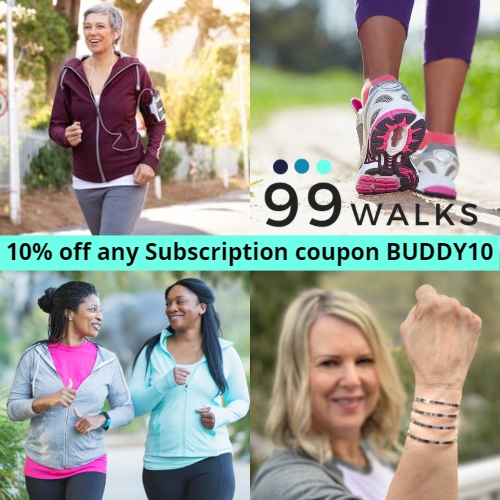 Studies show that it is easier to stick to a fitness routine when you have reasonable goals along with accountability and support from others. 99 Walks gives you all that and more! 99 Walks is a fitness app that allows you to set your own personal walking goal each month, then work toward it alongside thousands of other women.
Their fun virtual walking challenge is designed for women of every age and ability – Whether you're walking indoors or outdoors, using a walker or pushing a stroller, 99 Walks will help you start a fitness plan that is easy to keep and provide the tools you need to stay motivated.
You can walk as part of a team, either in person with women in your area or virtually across the country, or you can go solo and crush the miles on your own. Either way, their expert coaches will inspire you to keep moving and the supportive 99 Walks community will be with you every step of the way.
For even more motivation, you'll earn a stylish inspirational bracelet every month you meet your walking goal. These exclusive bracelets are engraved with a new inspirational theme each month and they cannot purchased, only earned!
Benefits of 99 Walks include:
Walk Tracker – Tracks walks by day, week, month and year so you can see your progress and know when you've reached your goals.
Daily Classes – You'll gain access to a library of classes for all ability levels that are led by compassionate coaches.
Exclusive Advice – Daily inspiration and expert tips from the 99 Walks coaches to keep you motivated.
Meditations, Podcasts & Music – Listen to walking meditations that will keep you inspired and enjoy podcasts, Walk & Talks, and music from three custom stations to keep you moving.
Virtual Team – Track your miles together, cheer each other on, and benefit from the accountability & comradery that comes from being part of a team.
Get 10% off any subscription at 99 Walks using coupon BUDDY10.
You can choose a monthly subscription for only $16 per month ($14.40 for your first month with coupon BUDDY10) or save even more with a pre-paid 3-month or annual subscription. There are no contracts, you can cancel anytime before your renewal date.
4