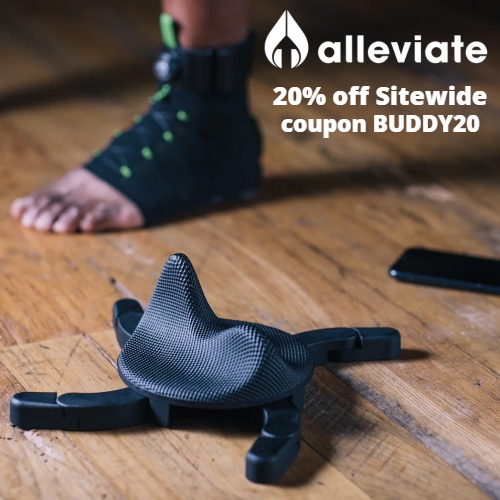 Created by a physical therapist with over 15 years of experience working with elite athletes, Alleviate offers a safe & effective 3-part recovery system for Plantar Fasciitis that replicates professional care. It relieves pain immediately and transforms the structure of your arch over time so you can stay pain-free long term.
Alleviate's holistic recovery system uses a science-backed combination of taping, massage, and exercise to reverse tissue damage and eliminate foot pain for good.
The system includes:
The Loft Brace – This award-winning brace mimics the support of a professional tape job. It provides immediate pain relief and is machine washable, breathable, and made with low profile materials to fit easily in most shoes.
The Arch Massager – Designed to repair the root cause of your pain, the Arch Massager provides a self-administered "Graston" soft tissue treatment. When there is too much load on your arch, your body creates a build-up of painful scar tissue. With the Graston technique, a clinician uses a steel instrument to apply pressure to the plantar fascia to break up that scar tissue and promote healthy tissue regeneration. The Arch Massager is precision-engineered to hit the same spots with the same amount of pressure that a clinician would use, effectively breaking up scar tissue, boosting circulation, aligning your muscles & tendons, relaxing your arch into a normal posture, and relieving pain.
The Arch Exercise Program – Exercise is linked to pain prevention and quicker recovery. The Arch Exercise Program gives you easy-to-follow rehab exercises, progress tracking, and on-demand expert feedback to help you build strength and stay healthy.
Get 20% off Sitewide at Alleviate using coupon BUDDY20. Shipping is $5 or Free on orders of $100 or more.
Alleviate products are backed by a risk-free guarantee. If you're not happy with your purchase, simply return your item(s) using the pre-paid shipping label for a full refund!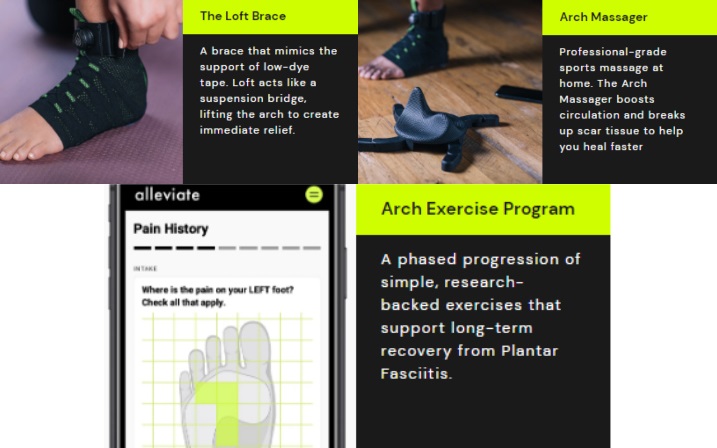 The Loft Brace & Arch Massager can be purchased separately, but for best results they recommend using all 3-steps of the recovery system together.
3