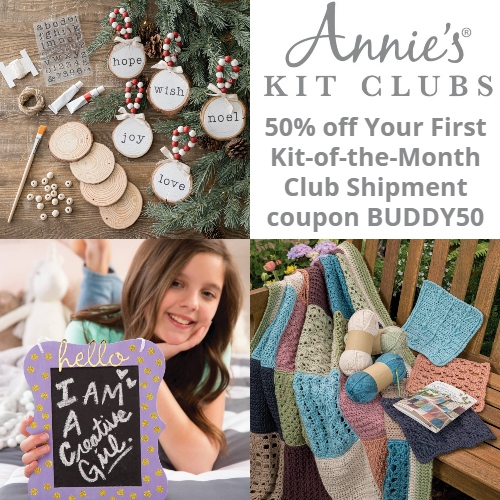 Do you love crafting and creating new things but your busy schedule makes it hard to plan, shop, and prep? For many of us, the roadblock that keeps us from our crafts is the prep work. Most of the time it takes longer to prep than to make the craft. That's where Annie's Kit Clubs comes in! They remove the roadblocks so you can get back to what you love: creating!
Annie's Kit Clubs are designed for every type, flavor, and level of crafter. When you join one of their Kit-of-the-Month Clubs, ready-to-go craft kits are mailed straight to your door every 4 to 6 weeks – no prep work required! The crafting experts at Annie's package the materials and instructions for each project, so once it hits your doorstep, you can jump right in! They have a ton of club options, so there's something for everyone. Some of their most popular clubs include:
Farmhouse Style Kit Club – Create a welcoming home infused with a cozy mix of traditional and modern accents. The Farmhouse Style Kit Club combines your love of crafting and the laid-back style you love. Each piece, handmade by you, instantly adds a personal touch that is casual and classic.
Christmas Ornament Kit Club – Your holiday season begins when you receive your first package, bringing you a taste of Christmas as you unwrap your kit and craft each ornament. Turn your kitchen table into a tinkerer's workshop and fill your tree with handmade treasures or create unique gifts that will be treasured for years to come. After all, the best Christmas memories are the ones you make yourself!
Crochet Afghan Block-of-the-Month Club – Each kit includes the yarn and patterns to knit 3 unique blocks, plus clear and helpful stitch instructions to guide even novice knitters! Watch your afghan take shape over the course of 11 months and master new stitch skills along the way. With timeless style and modern color choices, you'll create an heirloom-quality afghan that's perfect for everyday use.
Creative Girls Kit Club – Created for girls ages 7-12, the Creative Girls Club offers a new world of crafting inside each and every kit. She will receive TWO kits per month! Inside, she'll find easy-to-follow instructions and all the materials needed to get crafting with minimal adult supervision. She'll learn fun skills that will last a lifetime: painting, beading, stitching, paper crafting, and much more!
Young Woodworkers Kit Club – Kids will love the feeling of pride and accomplishment that comes with mastering real-world building skills they'll carry into adulthood. These kits introduce a wide variety of woodworking skills, including learning to use small screws and nails, using sandpaper, handling a hammer, learning the importance of making careful measurements, and so much more! They are designed for children 7-12 years of age – the perfect window of opportunity to pass on a love of woodworking to the next generation.
Get 50% off your first Kit-of-the-Month Club shipment at Annie's Kit Clubs using coupon BUDDY50. Shipping is a flat rate of $5.95 per kit.
Annie's Kit Clubs start at just $14.99 per month! No strings, no obligations, and no worries! You can cancel your club membership at any time.
3