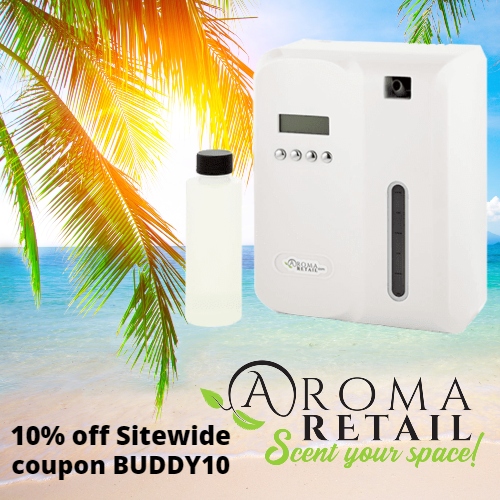 With Aroma Retail, you can use the same fragrance oils and diffusion technology used by 5-star resorts. They are the premier provider of custom, scented environments for resorts, casinos, elite hotels, and retail properties in North America. Their products and scents allow you to bring home the luxurious scents you love from resorts around the world.
Their scent machines are the easiest, most effective way to ensure your space has a pleasant aroma at all times. These mechanical diffusers eliminate the need for dilution, sonic vibration, or heat – which change the character of any pure fragrance oil, so you retain all of the fragrance and therapeutic qualities of your favorite scent. They have 3 machines to choose from:
The Scent Machine Home Unit 101 offers whole-home coverage in a 2,000 square-foot home with an open floor plan. It is also perfect for business scenting and can be used in the lobby, reception area, gift shop, etc.
The Scent Machine Professional is perfect for any space, including very large spaces as a free-standing diffuser or connected to your ventilation system. You will get whole-home/business coverage in up to 15,000 square feet with settings going from very low and delicate for smaller spaces to high volume intensity for larger spaces.
The Scent Machine Travel runs on its own rechargeable battery and is ideal for use in an office, restroom, bedroom, car, hotel room, man-cave, she-shed, or wherever you'd like to create a happy place. This is the only travel-sized scenting machine of its kind because it uses mechanical diffusion, just like the larger scent machines.
Aroma Retail's fragrance oils come in tons of pleasing scents from four different collections including:
Resort Collection – Fragrances used at world class resorts, including MGM Grand, Bellagio, Marriott Hotels, Margaritaville, and more.
Places Collection – Fragrances that take you to your favorite places, like Coffee Shops, Lavender Garden, Luxury Spa, Book Store, and Warm Bread Bakery.
Mood Collection – Fragrances designed to evoke specific moods, including Comfort, Confidence, Creativity, Energy, Focus, Happiness, Meditation, and Wellness.
Seasonal Collection – Your favorite holiday fragrances to make you feel warm & cozy! Fragrances include Happy Holidays, Hot Apple Pie, Pomegranate & Sage, The Great Pumpkin, and Winter Woods.
Aroma Retail also offers room sprays, reed diffusers, and scented candles to accentuate your spaces with your favorite fragrances.
Get 10% off Sitewide at Aroma Retail using coupon BUDDY10. A $5 minimum purchase is required to use this coupon. Scent Machines come with a 90-day limited warranty.
Want to try a scent before you buy a whole bottle? Order a sample blotter for only $2.45 + Free shipping to get a whiff of the fragrances you aren't familiar with. Blotters come in a heat-sealed Mylar packet and will last a year unopened!
23