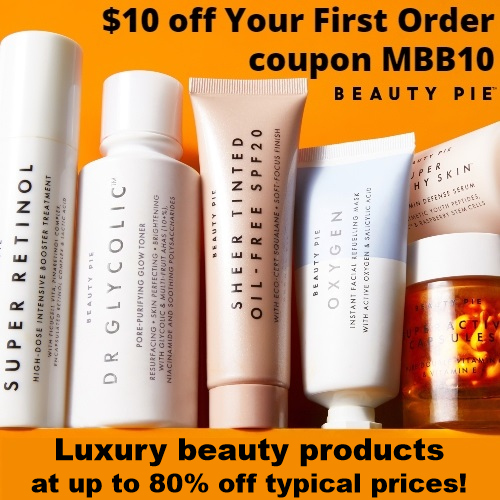 Beauty Pie is an exclusive beauty buyers club that allows you to shop for luxury makeup, skincare, haircare, bodycare, fragrances, and candles at up to 80% off retail.
Their team of highly experienced product development experts work with and source from the world's leading beauty & wellness labs and buy large batches just like other luxury brands – The difference is, Beauty Pie cuts out the middle man, the retail markups & the over-the-top packaging, and sells directly to members at insider prices!
Beauty Pie uses world-renowned skincare experts, makeup artists, leading dermatologists and nutrition gurus to help them create luxurious, clean, and effective anti-aging & exfoliating skincare, the very best makeup textures, and the finest French fragrances and candles. Their products are formulated with effective levels of the highest quality active ingredients, they are all cruelty free, and lab tested for safety – so you can be confidant that you're not just getting a great price, you're getting a great product as well!
Beauty Pie has two membership options:
Beauty Pie Monthly Membership – For $15 a month you can shop for up to $150 worth of luxury beauty products each month (calculated using typical prices). Any unspent 'spending limit' accrues until you spend it. This membership has a 3 month minimum commitment and automatically renews. You can upgrade your membership anytime and after 3 months you can cancel anytime.
Beauty Pie Plus Annual Membership – For $59 annually you can shop for what you want, whenever you want! There are no monthly limits and you will get an annual shopping allowance of $3,600 each year (calculated using typical prices) to use however you wish.
Both memberships usually pay for themselves after your fist order!
Get $10 off Your First Order at Beauty Pie using coupon MBB10.
Not ready to commit? You can still shop Beauty Pie's great products without a membership at typical prices.
What are typical prices?
Beauty Pie's typical prices reflect not only what non-members of the club are charged when purchasing their products, but their estimate of what a person would typically pay, at retail, for a luxury product of comparable quality, with a similar level of active ingredients, in a similar size. Each product has a typical price and a member price listed.
Fun Fact: Beauty Pie has been featured by Vogue, Bazaar, Vanity Fair, and The New York Times.
3