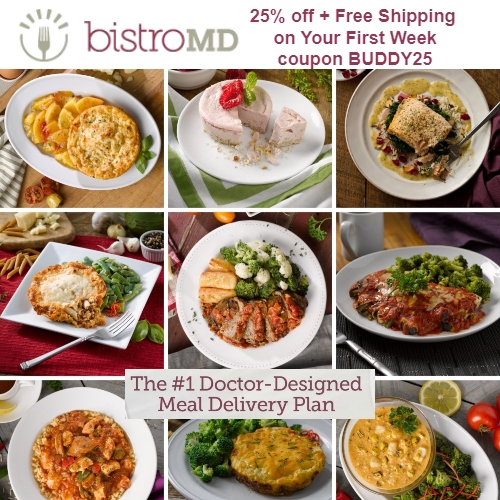 BistroMD is the #1 doctor-designed meal delivery program. BistroMD, delivers healthy and delicious entrees straight to your door for a lighter, healthier you. Looking for healthy-eating, diabetes-friendly, gluten free, or menopause-friendly weight loss plans? BistroMD has you covered!
Each week you can choose from over 150 chef-prepared meals that are ready to eat in 5 minutes or less. You can customize your plan however you'd like – whether you want a 5 or 7 day program, all three daily meals, or just lunches & dinners, BistroMD's registered dietitians will create a custom diet program that is just right for you.
Just because BistroMD meals are healthy doesn't mean you're missing out on delicious food! They offer great selections such as Pork Tenderloin with Mushroom Marsala, Meatloaf with Honey Bourbon Glaze, Lasagna, Street Tacos, Hickory Smoked BBQ Pork & Potatoes, Waffles, Frittatas, and many more scrumptious options that are all prepared by award winning chefs. Be sure to check their snack program called EATS (Essential and Tasty Snacks) to accelerate your weight loss!
Get 25% off + Free Shipping on Your First Week at BistroMD using coupon BUDDY25. All orders come with a satisfaction guarantee.
A little more about BistroMD :
M.D. Caroline J. Cederquist has spent her life's work helping patients achieve healthy weight loss, through her years of clinical practice as a weight loss physician. Her understanding of what nutrition your body needs in order to achieve healthy weight loss, inspired her and her husband, The Foodie, to create BistroMD. Caroline wanted to provide her patients, and others struggling with weight, the ability to easily prepare healthy and delicious entrees at home. In addition to her one-on-one work with patients, Caroline is a past Trustee for the American Board of Bariatric Physicians, and has appeared as a weight loss expert on several nationally known talk shows, including Dr. Phil.
4