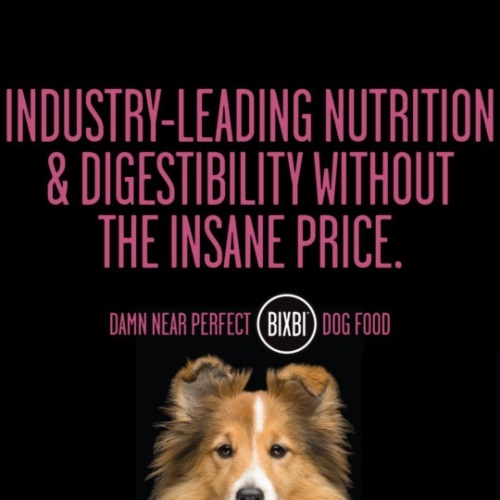 Bixbi carries high quality dog food, treats, and supplements to keep your dog healthy and happy. Providing the right food for your dog is extremely important – It reduces the risk of heart disease and cancer, provides more energy, longevity, and overall health, which means fewer trips to the vet and a happier pup! Bixbi offers some of the healthiest dry dog foods, wet food, freeze dried food, and treats on the market! Their all-natural products offer tons of benefits including:
• No meat meals…ever! – "Meat meal" is a primary ingredient for most dry pet food. What is meat meal? This byproduct is made from taking slaughterhouse and fish processing factory remnants that are not edible for humans, and cooking them, processing them under high heat, and dehydrating them into a dry powdery substance that goes into kibble. This highly processed meat lacks digestibility and nutrients.
• Easier on the tummy – Bixbi dog food is easier for your dog to digest due to its natural and less processed ingredients.
• Great for dogs with allergies – Bixbi dog food is all-natural so you don't have to worry about artificial ingredients that can trigger allergies.
• High in protein, low in carbs – Dogs are carnivores, so their bodies digest protein more easily than carbs. They have very short intestinal tracts geared to the consumption and digestion of raw foods. This is why Bixbi has grain free or healthy grain dog food options to increase protein digestibility and they never use soy, corn, rice or wheat.
• Convenience – Bixbi offers dry and freeze-dried options with a long shelf life and nutritious ingredients without the hassle of fresh dog food.
• Affordability – Bixbi dog food and treats are an affordable, healthy option, matching other high end dog foods in nutrition but not in price.
Bixbi's line of NASC certified mushroom supplements and hemp oil are just as good as their dog food! The mushroom supplements are great for dogs and cats, they are made with organic mushrooms and specially formulated to help with digestion, immunity, joint health, and skin & coat health for pets with seasonal allergies. The hemp oil provides natural, everyday support to keep your pet calm, relaxed and pain free. It is made with award winning purity, third party tested, and THC free.
Save time and money with a their convenient subscription option. Subscriptions are easy. You just choose how often you want your products delivered and Bixbi delivers them straight to your door, so you don't have to worry about running out of dog food, supplements, or treats. All subscription orders get an automatic 10% off + you'll get an additional 25% off your first shipment using coupon BUDDY25. Subscriptions are not binding and you can cancel anytime.
All products come with a 30-day money back guarantee. If you aren't satisfied with their products, just fill out a quick form and send the unused portion back using the free shipping label provided for a full refund (shipping costs are non-refundable).
Get 15% off Sitewide at Bixbi using coupon BIXBI15. Shipping is a flat rate of $5 or Free on orders of $49.99 or more.
More about Bixbi –
Bixbi is a Colorado based company and all products are made in the United States. Each of their facilities has Good Manufacturing Practices (GMP's) and HACCP (Hazard Analysis Critical Control Points) food safety regulations. Their facilities are audited on an ongoing basis by the U.S. Department of Agriculture (USDA) and the U.S. Food & Drug Administration (FDA) to ensure strict food safety standards are maintained.
Every product Bixbi produces is made with the highest quality ingredients sourced only from the USA, they go through minimal processing and are rigorously tested for safety and quality. All products are toxin free, they undergo rigorous testing for contaminants and environmental toxins such as BPA, lead, arsenic, mercury, chromium, pesticides, antibiotics and melamine, as well as extensive testing for Salmonella, E-coli and Listeria.
3