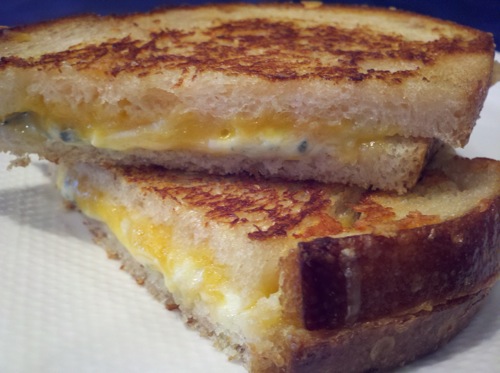 On rainy days, I always get a hankering for a grilled cheese sandwich. When I was a kid, they were made on Wonder Bread with Velveeta cheese. I'm proud to say my preferences have evolved since then. Sometimes I make them with brie and figs or go the comfort food route and add a slice of ham. But one of my favorites by far is the Bleu Cheddar. It's very simple and the flavors together are amazing.
Ingredients
Sourdough Bread
Bleu Cheese Crumbles
Shredded Cheddar or Mexican Blend Cheese
That's it! Lightly butter the outsides of the bread and toast it up in a skillet. You will never go back to Kraft Singles again!
Sign up for my email newsletter to get recipes like this delivered to your inbox!
1