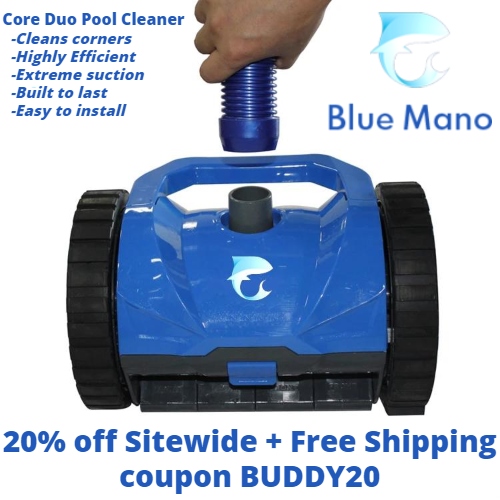 Blue Mano pool cleaners are built by the pool experts at Bay Cove Pools. After seeing the need for a decently priced pool cleaner that could actually clean corners and move efficiently, the Blue Mano Core Duo was born.
The Blue Mano Core Duo was created with efficiency & longevity in mind. Their signature Duo Drive design features two wheels that keep the Blue Mano straighter and more accurate with less overlap. It is built to clean corners and has remarkably high suction rates. It's easy to maintain and extremely durable, so you don't have to worry about a bunch of breakable parts. Plus, it's super easy to install! No assembly is required. Simply attach the hose to your pool and the Blue Mano does the rest. Each system is made in the USA and quality tested.
Get 20% off Sitewide at Blue Mano using coupon BUDDY20. The Blue Mano ships Free and comes with a 90-day quality guarantee.
1