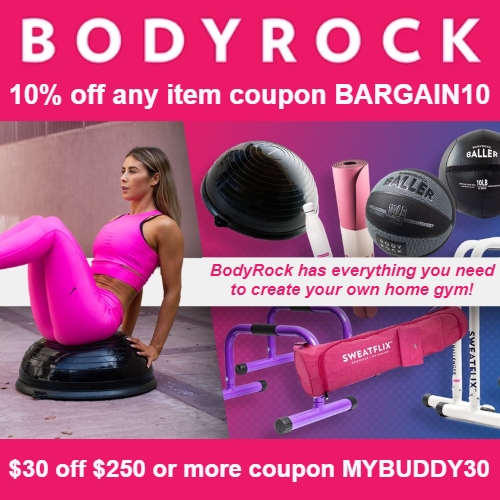 BodyRock provides everything you need to get healthy and in shape from the comfort of your home. Their online store offers all the tools you need to succeed, including meal plans, yoga mats & accessories, a portable blender so you can have a fresh, healthy smoothie or protein shake anywhere, and huge line of workout equipment.
Their wide range of workout equipment includes dumbbells & kettlebells, fitness benches, bars, resistance bands, ropes, stability balls, weighted vests, plyoboxes, and much more.
Get 10% off any item at BodyRock using coupon BARGAIN10. Spending $250 or more? Use coupon MYBUDDY30 to get $30 off your order. Coupons are valid on overstock deals and their $99 bundles, which are are already highly discounted!
1