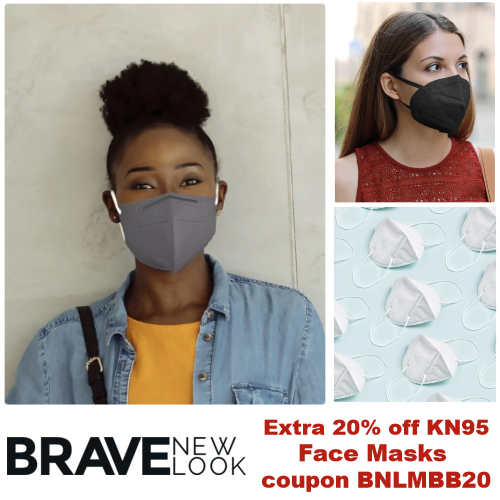 Brave New Look has KN95 Face Masks in black, white and gray. Already up to 33% off, you can get an extra 20% off these masks using coupon BNLMBB20. Shipping is $4.99 or Free if you spend $75 or more.
Prices on items below are after coupon.
10-PK of KN95 Face Masks : $24 (reg. $45)
20-PK of KN95 Face Mask : $41.60 (reg. $90)
40-PK of KN95 Face Mask : $80 + Free S/H (reg. $180)
These sleek KN95 masks offer superior protection and comfort. They feature an adjustable nose piece and elastic ear loops for a snug, comfortable fit. They provide greater than 95% filtration level with a particle size of 0.3 microns. These masks are intended for everyday use, not medical use.
2